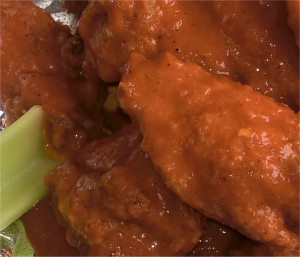 This sortable table contains links to each of the Huntsville-area hot wings reviews I've done as part of my ongoing #HsvHotWings series, which I started in the spring of 2016. Both national chains and locally-owned restaurants are included. When the page first loads, the table is listed by most recent review. I have removed restaurants that have closed since I visited them.
In each review, I ordered the hottest wings available. To go to a review, click the entry in the Reviewed Wings column that you want to read.
On a scale of 1 to 10:
Quality considers the relative quality of the meat, how well it is cooked, at what temperature it is served, and how much the wings cost.
Flavor is just that: how good do they taste? There are all sorts of flavor profiles from review to review, and each is evaluated on its own. There is no criterion but yumminess here.
Heat is pretty self-explanatory, but you should know these rankings are with my palate and tolerance in mind, which is considerably stronger than that of the average person. Any rating 8 or above caused me some degree of pain. Unless you're accustomed to eating superhot peppers and sauces, you might want to stop about 6.
If there are wings out there I need to review, please let me know.