This is part of an ongoing series reviewing hot wings in the Huntsville area. Visit #HsvHotWings for a comprehensive linked list.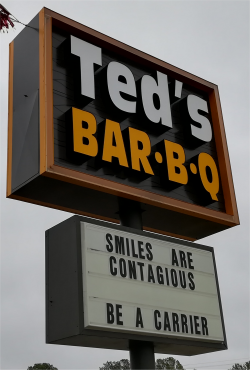 The boys and I took in the Madison location of Ted's Bar-B-Q, in the former Golden Rule location on Madison Boulevard, for a rainy Saturday lunch.
The restaurant is fast casual. Ted's Signature Wings come one way, with no heat levels or flavors from which to choose. They got the nod for a #hsvhotwings stop after the person with whom I conversed on the Ted's Facebook page convinced me to try them.
Quality: 6/10. While not especially large, my three drums and three flats were lean, tender, and served at an ideal jump-right-in temperature. Unfortunately, the price costs them points on the quality score. Six wings, a side, and a drink are $11.76 (and I will say the slaw was fresh, obviously made in-house, and delicious). Or you can get just the wings for $8.71. Ordering 50 wings, the largest quantity listed on the menu, still only gets them down to $1.09 each.
Flavor: 8/10. Ted's Signature Wings are tasty indeed. These wings are smoked, then fried, and consequently they have a marvelous woody flavor while still remaining quite juicy. The barbecue glaze is sweet and tangy, complementing the smokiness perfectly.
Heat: 1/10. There is no heat at all here, but then there is no heat advertised. I did try some of the Ted's spicy barbecue sauce that was on the table, but there isn't much kick there either.
Ted's Signature Wings are delicious, and if you're not a chilehead and find yourself here for lunch, they're a good play. However, they're a bit high. If you're taking the whole office out for wings or buying them for a party, there are more economical choices.
You might also like: