This is part of an ongoing series reviewing hot wings in the Huntsville area. Visit #HsvHotWings for a comprehensive linked list.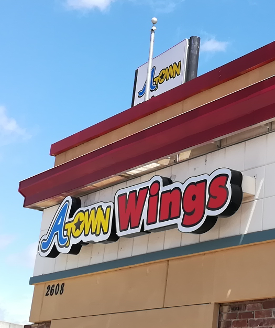 A Town Wings is a small regional chain, and we got one several months ago just north of Max Luther on the Parkway. It's a fast-casual place that offers wings, tenders, and fried fish. The wings came highly recommended by a friend and former colleague, so I knew A Town needed to be on my short list.
A Town Wings has numerous wing flavors, including lemon pepper, honey garlic, barbecue, and so forth. I went with the extra hot. Ten wings are $8.71 (add $1 for fries, and another $1 for a drink). Yes please on both, so I was out the door for $10.89. No vegetables were evident, so I declined the offer of ranch or bleu cheese. Service was prompt and friendly.
Quality: 8/10. The wings I received were small, but a) they were well under the magical $1 threshold; b) there were 11 in my 10-piece order; and c) they were cooked and sauced perfectly. Also, there was very little fat.
Flavor: 8/10. My six flats and five drums were delicious buffalo wings, with a slight buttery undertone and lots of red and black pepper, both up-front and lingering. I was happy there was enough sauce left for me to dip my fries into.
Heat: 6/10. It's always promising when you sit down with your wings and you can feel a wispy little burn in your eye. These didn't turn out to be blow-the-back-of-your-head out hot, but they definitely got my attention with steady accumulation. I had a good sweat going, and looked sunburned when I went to the restroom to wash my hands.
A Town impressed on my first visit. Looking forward to returning.
You might also like: