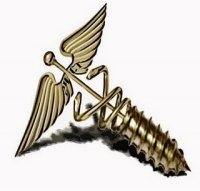 Today U.S. District Judge Robert Vinson ruled the Patient Protection and Affordable Care Act, popularly known as Obamacare (well, not so popularly known as such among its rapidly dwindling supporters, so hammer down on that term), unconstitutional:
"While the individual mandate was clearly 'necessary and essential' to the act as drafted, it is not 'necessary and essential' to health care reform in general.  Because the individual mandate is unconstitutional and not severable, the entire act must be declared void."
The entire ruling is here.  Some good early analysis is here.
This guarantees the U.S. Supreme Court showdown we've all suspected was inevitable, and it's a big deal.  "Judicial activism on steroids," The Nation breathlessly, senselessly, and oh-so-satisfyingly bloviates.
Awful lot of holes in the dike, Mr. President.  How many fingers do you have?