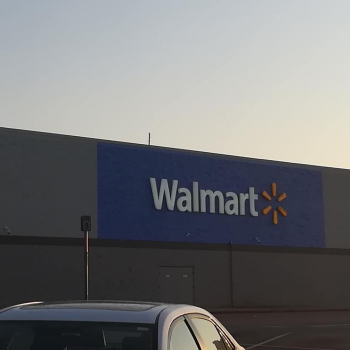 I went to Walmart this morning. I needed a significant quality of Mobil 1, and I hadn't made time for a trip to Costco last week like I should have.
After I checked out with a human cashier, I was stopped at the door behind another man whose receipt was being checked against every item in his cart. I started to go around him, and the employee checking said "wait, I need to check yours too."
I am fairly certain this is a new development since I last darkened Walmart's door. I stopped for a moment.
When it became clear to me that this process had a chance of realistically adding five more minutes to the errand, I said "ma'am, I have to go. I'm sorry. Take care." Walked out with my cart, loaded my items, put my cart up, and left. No one tried to stop me again, inside or outside the store.
So I got to wondering whether they could even do that. I mean, it's post-transaction. I own the items.
Now online legal advice is a sketchy thing, because any schmuck can go put whatever out there, and there it is for consumption. (Irony needle pegged?) So this isn't legal advice. This is for entertainment purposes only. Best I can tell from poking around here and there for a few minutes, it is perfectly legal for them to ask you, and it is also perfectly legal for you to refuse. A merchant may not detain you without probable cause that you've committed a crime (like shoplifting).
However, could a store claim that your refusal is, itself, probable cause? Maybe. (That story cites California state law, so it may be different elsewhere.) I'm not sure how that would have gone this morning. Mind, I wasn't making any sort of principled stand when I refused. It was just as I stated. I'd already been in the store considerably longer than I intended, and I needed to get on with my day.
However, if I am ever in Walmart again, and I am stopped, and I am asked to wait for a non-trivial amount of time, and I decided I am not going to and leave, and they try to detain me, then my plan will probably be to ask for a police officer with a search warrant.
I would fully expect such a request to end the encounter.
(An afterword: Note that receipt-checking at Costco, Sam's Club, and anywhere else with a membership model is probably something you have to tolerate. They can't legally compel you to submit to it, but they can make it a condition of your membership.)