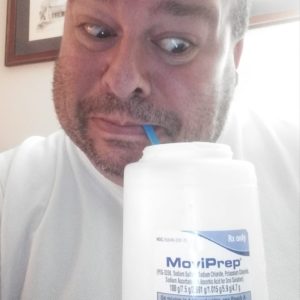 Third time I've done it, too. (I'm going to spare you the photos. I could easily provide them. Technology, baby.)
Folks, if you're afraid of a colonoscopy, don't be. This is one of the most efficacious tests we have. Mainly it's diagnostic for colon cancer, which is usually asymptomatic until it's about to kill you. So this ~24-hour inconvenience is a good deal.
And yes, it's about 24 hours that it commits you. The prep is the more unpleasant part, but even that isn't as traumatic as you've probably built it up in your head. The procedure itself is just an absent hour (or a little less).
If you take away nothing else, take this away:  the whole thing, soup to nuts, is really not that big a deal.
Generally, you'll start them at 50 years of age. I've now had three at 48 because I had some irregularities that needed to be looked into, and well, turns out I need a gastroenterologist to have a gander a little more often than the average bear.
But yay me! I had a doctor who said "let's look into that." So thankful to have a well-managed situation instead of something that might have dropped me on eight weeks' notice!
Folks, go get a colonoscopy. Probably it will come back fine. But if it doesn't, then OMG, what if you hadn't had it? Right? Do you have anyone counting on you?
Do you hear me, dudes and dolls?