It's pretty hard to find a carburetor in a new car anymore.  Outside the third world, it may be impossible.
Nevertheless, I know a lot of us are old enough to remember the drill.  For a cold start, pump the accelerator once, take your foot off, and turn the key.  Most of the time that's all you need to do.  (If it's a Ford with a 351 Windsor of some age, wait three seconds for it to quit.  Then, turn the key again.)  The only common mistake you could make was flooding it—too much fuel in the carburetor at once. Wait a few minutes and try again.  Or, press the accelerator all the way to the floor and crank for ten seconds at a time, waiting thirty in between, until it starts.
It's extremely likely now that anything you drive day to day is equipped with electronically-controlled fuel injection.  Turn the key (or press the button).  Done.
Carburetors worked pretty well.  Fuel injection works essentially flawlessly, and brings benefits like increased efficiency, smoother delivery, and near-perfect reliability.  It is better in every way.  Consequently, you'll never hear anyone say anything like "my new $35,000 Honda is pretty nice, but sheesh, I just wish it had a carburetor."
Yet those of you still whining about the Windows 8 Start screen sound pretty much like that.
Be honest—have you even tried to use it?  Or have you rejected it out of hand because ewww gross it's different?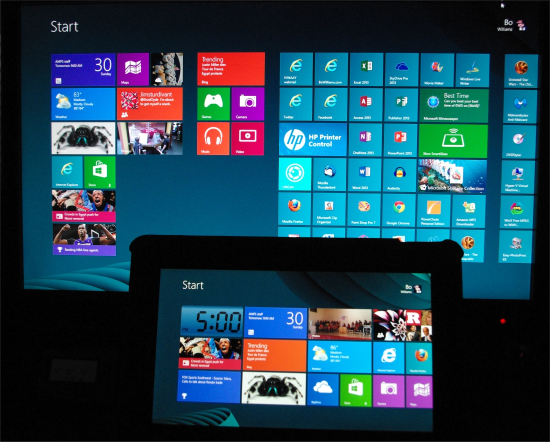 Yes, it is different.  It's better.  I love it.  I love the organization options. I love the live tiles.  I love how easy it is to replicate my layout on multiple machines, optimizing this for desktop and that for tablet.  I love the standardization it brings to things like application settings.  It is classic bigger-better-faster-more.  There's nothing I prefer about the old paradigm.
Take some time with it.  Think of it as an extended Start menu—what appears in Windows 8 when you click the Start button.  (That's exactly what it is.  Think about it.)  Open your mind to this new experience.  Use it on its own terms—as it's intended to be used.
You'll love it in three days.