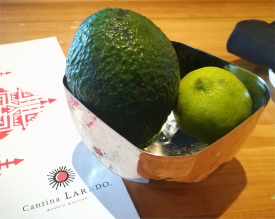 Guacamole is mostly avocado, and avocado is magical, so it's tough to stray too far. The worst guacamole you ever had was probably still at least solid.
The best guacamole I've ever been served at a restaurant is a Ten-Buck Huntsville Yums entry: the Top Shelf Guacamole at premium Mexican chain Cantina Laredo.
Say the word for it, and your server will prepare this guacamole as you watch.
It includes impossibly perfect avocados, charred jalapeno peppers, tomato, red onion, cilantro, and lime, with a little bonus of queso fresco.
It pops. It's amazing. The flavor explodes out of the just-prepared produce, and you'll want to eat it with a spoon. Fortunately, the chips at Cantina Laredo are good enough that you'll probably resist such a classless move. (However, they're thin and the guac is thick, so you may want to dab with a utensil as opposed to scoop with the chip itself.)
I've almost always got carne asada tacos coming as an entree with this guacamole on the table, and I save some for those too.
This is guacamole nirvana. If you're a guac fan and you haven't experienced it, make haste.
Cantina Laredo
300 The Bridge Street NW Suite 110, Huntsville (256-327-8580), open 11-
You might also like: