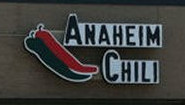 Today I continue my Ten-Buck Huntsville Yums post series with an old favorite that I have gone literally months on end eating for lunch every Tuesday: the Texas chili at Anaheim Chili.
Now in case you don't know, proper Texas chili isn't necessarily a soupy affair. You can still eat it with a spoon if you want, but it's forkable too. This is "spicy pot roast," as my friend and frequent Anaheim Chili companion Tommy calls it. Scott (proprietor and chef) has never told me exactly what's in it, but I suspect it's 98%+ chuck, white onions, and serrano peppers by weight.
And there is a kick. It won't move a chilehead's needle that much, but if you think Tabasco or Texas Pete is too hot, be advised that this will light you up. (If you do eat hot things occasionally, this is worth an "occasionally.")
The longstanding offering is the Texas chili platter, with green rice and pinto beans.
A couple of summers ago the Texas chili salad debuted, and it's now available year-round too. The chili's accompaniment includes greens, fried jalapenos, onions, roasted corn salsa, shredded cheddar, and ranch dressing.
They're both hearty and marvelously flavorful meals, and I'm a threat to get either. Just depends on my mood. I do supplement with the house hot sauce (AC sauce) as well (shown at about 11:30 on the platter, and already applied on the salad).
Usually Texas chili is available only on Tuesday, and even if Jones Valley isn't your neighborhood, it's worth the trip. Sometimes it's available other days. Typically the Facebook page will announce such.
It's very difficult to make a mistake on the Anaheim Chili menu, but the Texas chili remains the top of the top. If you haven't had it, make haste. If it's been too long for you, go renew your affection!
Anaheim Chili
2030 Cecil Ashburn Dr. SE (256-489-5531), open 11-9
You might also like: