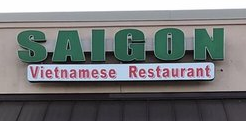 This entry in my Ten-Buck Huntsville Yums post series is about the de facto national dish of Vietnam: pho! I first had pho in late 2002 and fell for it hard. For the past several years, the best pho in the area has been at Saigon, on Madison Boulevard in Madison.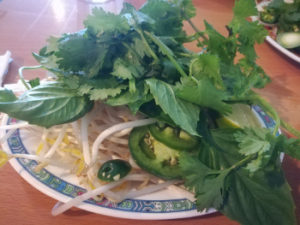 Pho is a rice noodle soup of somewhat variable composition (and the Wikipedia topic contains an excellent history, if you are so inclined). The soup comes to your table with the noodles, onions, and meat. You also get a plate of Thai basil, cilantro, mung bean sprouts, sliced jalapenos, and lime to add to taste.
The first pho I had was pho dac biet—the most deluxe beef version of the soup, with flank steak, brisket, meatballs, tendon, and tripe. Today I prefer pho tai, which is similar but with only the flank steak. It's sliced very thinly and dropped into the hot broth raw to cook.
I generally use most of the garnishes, and I also add a goodly dollop of sriracha. (The soup is not inherently spicy-hot.)
The spice blend is complex, including ginger, star anise, and coriander. Saigon's seems to pop just a bit more vibrantly, and everything is always so fresh-looking and tasting.
If you already like pho, make haste! If you haven't tried it yet, be warned: it's gonna getcha! (And be ready to make a mess of your shirt eating your first few bowls!)
Saigon
8760 Madison Boulevard, Madison (256-772-0202), open 11-9
You might also like: