This is part of an ongoing series reviewing hot wings in the Huntsville area. Visit #HsvHotWings for a comprehensive linked list.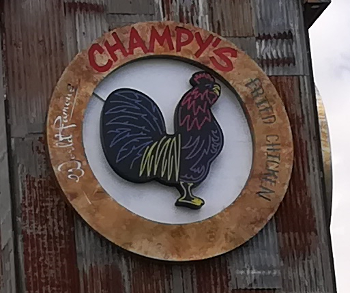 Champy's Chicken is a small chain whose newest location is in southern Madison, near Shelton & Madison Boulevard in a location that used to be Bison's and Buffaloes. It is a full-service restaurant, and the tin-walled road house motif from this location's previous instantiations survives.
The Champy's wings are available fried or smoked, with sweet heat (medium), sweet heat (hot), and buffalo as the sauce choices. I went with fried wings in sweet heat (hot) sauce, after being told it was hotter than buffalo. My eight-piece order, with ranch and two pieces of celery, was $9.89. Mikayla was an excellent server.
Quality: 3/10. Upon arriving at the table my four flats and four drums had decent curb appeal, but were quickly torpedoed by excessive fattiness. Also, they were rubbery and difficult to get off the bone, strongly suggesting they were overcooked. (No charring evident, so I think "too long" as opposed to "too hot." They probably needed to be cooked hotter and shorter.)
Flavor: 3/10. The sauce was sweet, but very thin, and there wasn't much of it. Sadly, these were some of the blandest hot wings I've ever had. I can't recall ever salting and peppering hot wings in a restaurant before. I did these.
Heat: 2/10. Nearly nothing going on here. A slight whisper of heat persisted for a few minutes, but that was it (and I'm not sure how much of that came from the black pepper I added, actually). Regular Tabasco sauce has hit me harder.
This was one of the more unfortunate #hsvhotwings adventures I've had. Based on my experience, you can get better wings just about anywhere. Perhaps I'll pay Champy's a validation visit sometime.