This is part of an ongoing series reviewing hot wings in the Huntsville area. Visit #HsvHotWings for a comprehensive linked list.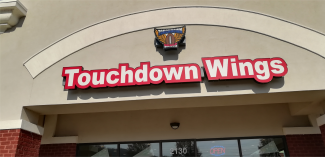 Touchdown Wings is a fast casual eatery down on Redstone Road—more down south than I ever habitually go in Huntsville. I found myself down there today on other business, and decided to give them a go. It's a pleasant and clean place with a menu that also includes tenders, salads, and a few seafood selections.
My lunch special contained seven drums, three flats, fries, and a drink for $9.80. There are numerous sauces available, with the heat scale apparently confined to the buffalo wings. Crazy Hot is the hottest. The menu said celery would accompany so I got some dressing, but then there was no celery. Presumably I could have asked for it. Service was prompt and friendly.
Quality: 8/10. Reasonably sized with little extraneous fat, and served at dig-in temperature. They were heavily sauced and fried effectively, with one just very slightly undercooked. There is excellent value here, with these sliding under the $1/each threshold even with fries and a drink.
Flavor: 7/10. These are particularly pungent buffalo wings, with a vinegary bite and maybe even a little mustard in the recipe. There's not a lot of flair or pizzazz here, but I found them plenty tasty enough to make a happy plate. (I ate the fries that were soaked in the sauce too.)
Heat: 6/10. You can smell that you didn't get mild when you first encounter these. There's a nice red pepper burn by about halfway through the second wing, eventually building to a decent rush. Not a drenching sweat, but definitely a few drops happening by the end.
This is an eminently defensible stop for wings in most-of-the-way-to-the-river south Huntsville.