This is part of an ongoing series reviewing hot wings in the Huntsville area. Visit #HsvHotWings for a comprehensive linked list.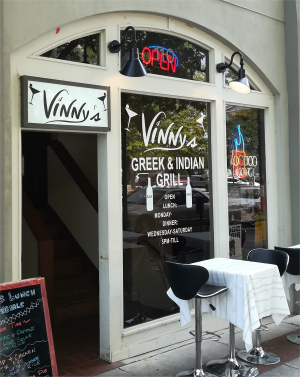 Vinny's Greek and Indian Grill is on the south side of the square in downtown Huntsville, and it's exactly what it says it is, with numerous selections from each cuisine (as opposed to fusion). It also feels like a trip to a fantasy world, with delightful-yet-bizarre cotton candy lighting, and much froofier fixtures than you might expect to find in a place called Vinny's. Saintseester and I checked it out for lunch.
The Indian hot wings are available in a 6-piece order or a 10-piece order. I went with the 6, and also had some delicious spanakopita. (If you're in a Greek and Indian place, don't you have to get a bit of each?) Our server Melinda was delightful, and asked me whether I wanted mild or hot. I went with hot, obviously.
Quality: 7/10. These wings were on the small side, and $9 is a bit dear for a 6-piece order—but I actually received 8 pieces, so that helps. My four flats and four drums were freshly prepared and served warm, with a number of carrots and celery sticks.
Flavor: 7/10. These are called "tir wings" on the menu. I don't know what that means, and in hindsight I should have asked because I can't tease an unambiguous answer from the web. They don't go in any genuinely strange directions, but at the same time, they're not like any wings I've ever had. I would swear to chile, black pepper, and turmeric, and I think there's a hint of curry (which would make sense). Not sure what else is happening on spices. The wings were tasty.
Heat: 4/10. What is there hits promisingly within the first wing or two, but alas, the blaze never really gets off the ground. There's enough burn to bother someone who doesn't like spicy food, but chileheads will have no issues.
These are unusual wings in an unusual restaurant. I'm looking forward to returning.