This is part of an ongoing series reviewing hot wings in the Huntsville area. Visit #HsvHotWings for a comprehensive linked list.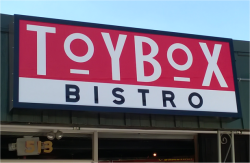 (Edited from the original post below to include review of new hot wing lineup. Strikethrough denotes obsolete material.)
I just did a full-up review of Toy Box Bistro at Rocket City Mom, and enjoyed it very much. I went back for wings yesterday for lunch. This is where Beauregard's used to be on the southwest corner of Jordan and Holmes.
At Toy Box Bistro, the hottest wings listed on the menu are simply "hot." When I asked if those were the hottest, I got "nope, we have ghost pepper butter too." Ah. Yes, please. You can order six, twelve, or twenty wings. I did twelve, which turned out to be eight flats and four drums. They were served with a few carrot sticks, and they were $14.16 before tip. Our server Joseph did a fine job.
Quality: 9/10. These were lovely wings of considerable quality. They were meaty, uniformly sauced and cooked, and served at ideal temperature.
Flavor: 6/10. These are not buffalo wings, but they don't really fit into any ready variety. There is a basic flavor profile here of chili peppers and sugar that doesn't ever really change. They're fine—I ate them all—but they're very simple.
Heat: 4/10. Well, shoot. We're regressing on heat again. There is a small but immediate punch, so I'm thinking something else accompanies the ghost peppers in this sauce. The back side heat comes online quickly, but unfortunately peaks much too soon, never getting above a smolder. The tingle is on the lips and tongue. I didn't need a drink.
These are the prettiest wings I've had so far, but they could use a little passion. Double the heat, or maybe a good shot of garlic? Or both?
The new hottest wings in the Toy Box Bistro lineup are known as B.Y.F.O., which I expected to have a much less tasteful meaning than Bite Your Face Off (what it actually stands for). I partook with the family last weekend. Ask for Kayla; she did an awesome job.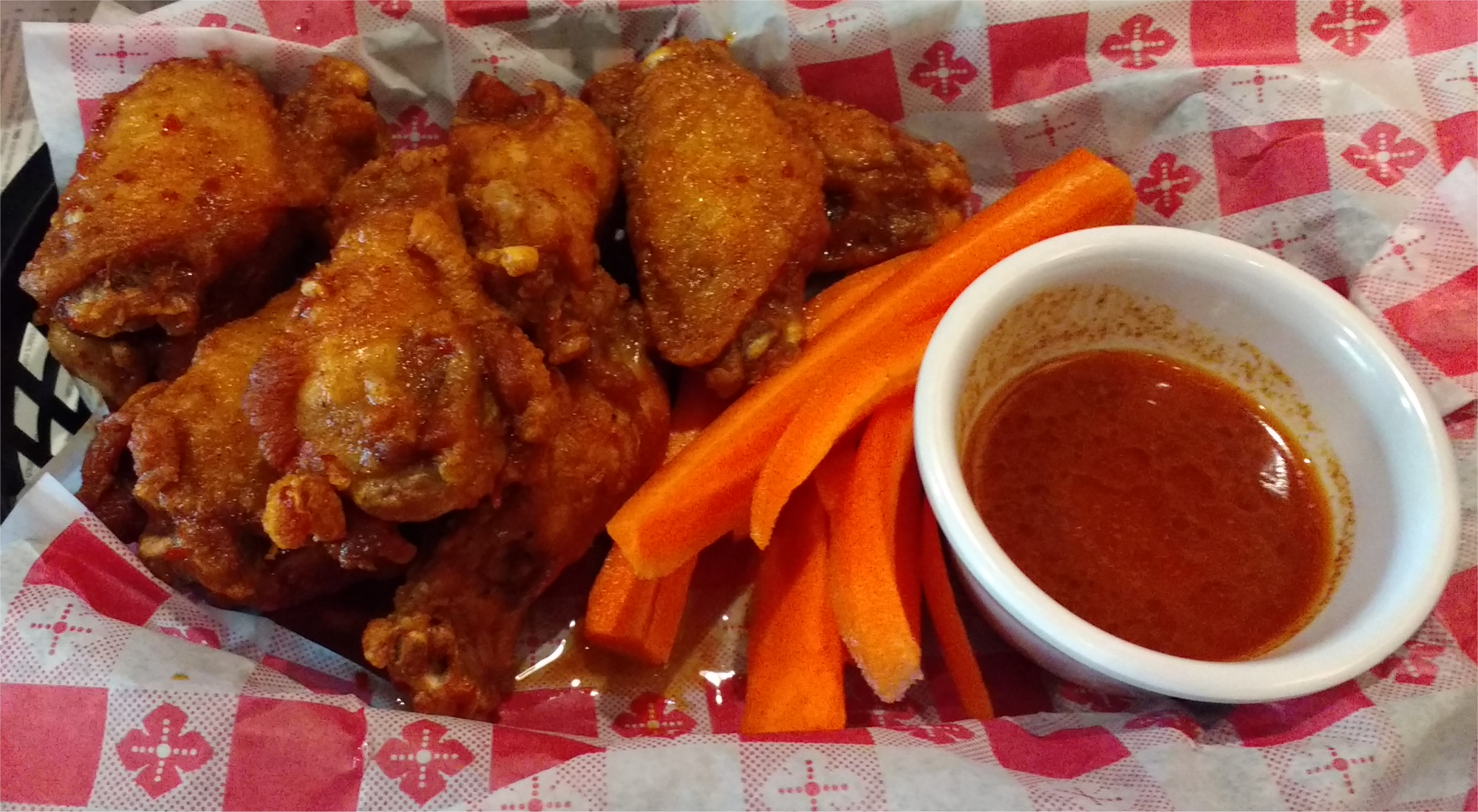 Quality: 9/10. We have here supplier and best practice continuity. As with the earlier wings, these were plump, meaty, and came out ready to devour.
Flavor: 7/10. Building much more of a story here, with flavorful peppers grounding onion and garlic notes. There might be a hint of celery salt? There is a melody here, where before there was mostly a rhythm track.
Heat: 6/10. Yup, these are slappin' the bass a little bit. I suspected habanero, which was confirmed, as well as a little ghost pepper powder. I never had any significant discomfort, but C. chinense lag-then-build is unmistakable.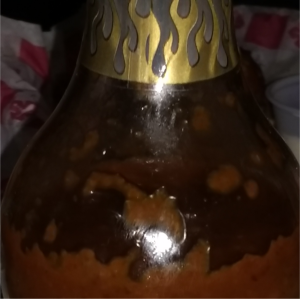 Toy Box Bistro's B.Y.F.O. wings are a solid offering indeed. Now, if you're feeling daring, and Bill is around, ask him if there's anything hotter in the house…