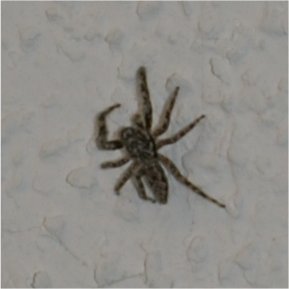 During the summer months, there is frequently a hunting spider of one sort or another around our back door.  If they're small enough, they'll even hang out between the door and the jamb (the cool little jumping spider with the neon-green palps and the huge eyes does that a lot).  Not tough to figure out; the eating's probably pretty good because the bugs are attracted to the lights.
Occasionally one ventures further in.  This one has been in the tray of our living room ceiling for three days now.  It's been all over up there.  It's like a pet.  It's 3/4″ long or so.
Spiders are good guys, so when I find one in the house I generally leave it alone, unless it's very large (or a black widow of any size, of course).
I'll probably rescue this one soon and release it outside, as I'm confident it won't survive venturing down on Lea's watch.
You might also like: