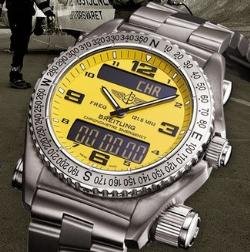 Steve Fossett wears a Breitling Emergency wristwatch. As you can see, it's a good-looking multifunction analog/digital. It's also got Breitling's temperature-compensated Superquartz movement, so it's highly accurate.
What makes it really special, though, is that it contains an emergency transmitter. The wearer can unscrew and extend the antenna (the large knob near the lower right lug), and transmit on 121.5 MHz (an aviation emergency frequency) for 48 hours. The transmission will go 100 miles or so in ideal conditions, but half of that is a slam-dunk under any conditions. It also has a separate battery from the one powering the movement.
Fossett hasn't activated that watch. And it's been long enough now that he'd be past hesitating on the basis of not bothering anyone needlessly, or some similar reason.
I hope he's all right. He's a hero, and we need heroes. Unfortunately, heroes sometimes die pursuing the very activities that define them. I fear that's what has happened.
Thanks to gadgetreporter.com for the Breitling image.
You might also like: