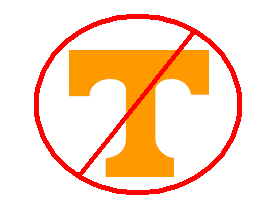 Actually I think the state itself is pretty great. But I hate the Tennessee Volunteers.
I haven't always. In fact, they used to be my second-favorite team. I was 11 years old in the fall of 1982. It was the first football season that my parents were divorced, and we were spending a fair bit of time at my dad's friend Reani's house. Reani had a big UT print on the wall of his basement, next to the pool table. He was from Cleveland, Tennessee and a Vol fan of moderate intensity.
That year Tennessee sputtered out of the gate. They started 1-2 and were 3-3-1 headed into November. I started pulling for them to make a bowl game, and they did (though they lost it). I adopted them to some degree that fall, and kept them for a long time.
I can remember seeing some pre-game footage of the team taking the field at Neyland Stadium to warm up. They ran out, and Johnny Majors followed, walking, all by himself, as cool as a bottle of Absolut that's been in the freezer all week. I want to say he had a hand in a pocket of his slacks, though my memory may have added that detail. The place just roared.
Of course I never pulled for Tennessee over Alabama, and some kid named Peyton Manning reliably made the Third Saturday in October hard to deal with for a few years. Seems he also sang "We Own Alabama" to the tune of "Sweet Home Alabama" with the student section after the final time he beat us.
Yeah, I didn't much care for that.
And I really didn't care for the fact that after that game, it would be another five years before we won the Tennessee game. When this guy I worked with started leaving me an orange on my keyboard the Monday after Tennessee beat Alabama, and enjoyed so much that he was able to do it year after year, I jettisoned any residual affection I had for the Volunteers.
Today, as I type, at Alabama Coach Saban is 7-0 vs. Tennessee, by an average score of Alabama 36, Tennessee 11. I fully expect him to make it 8-0 tomorrow. I'd like him to run it to 15-0 or 16-0 by the time we lose him to Lake Burton.
That will be long enough for a Tennessee freshman to have no memory at all of ever defeating Alabama.
Similar Posts: