The 60-watt and 40-watt incandescent light bulb ban takes effect next week. There are two things here a lot of people are missing:
The light bulbs don't become illegal to sell next week; only to manufacture. They will still be available in stores for some time into 2014.
Rough service bulbs will remain available.
Rough service bulbs look and burn like regular bulbs, but they are considerably more durable (and consequently more expensive, though not by much). When we moved into our new home in 2000, the builder had installed Teiber 130-volt rough service light bulbs throughout. It was literally almost six years before one burned out.
So, when it comes to incandescents, I haven't bought anything but rough service bulbs in a long time anyway. I use 1000bulbs.com (no connection except being a satisfied customer). That link includes 75-watt and 100-watt bulbs—you know, the ones that were banned at the start of this year?—in case you think I'm pulling your leg.
Therefore, it would appear we have ample incandescent options for the moment, anyway. So stay with them if you want to.
And now I'm going to ask you:  do you really want to?
It's certainly debatable by reasonable people whether federal action was the way to handle this problem. Big government types hail the great advances made by the light bulb companies in order to comply with their wise laws, while others claim the free market would have driven innovation without them. However we got here, we're here, and we have options.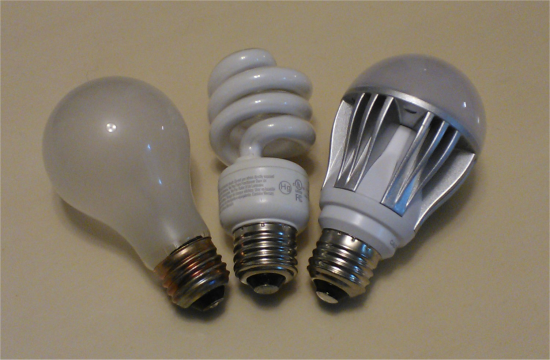 Longtime readers may recall my enthusiasm for compact fluorescent lamps (CFLs). I still have many of them deployed and I do like them, but they're a bit of a mixed bag. Some of them are a little slow to warm up. Few of them can be dimmed. All of them have special disposal instructions. On the positive side, they do consume far less electricity than comparable incandescents.
My only big complaint is that I'm not getting the advertised long life from them. I haven't kept detailed records, so I have no hard data, but I know I replace them more often than rough service incandescents. I wonder if they're really lasting that much longer than regular incandescents would, really.
I started stepping into current LED bulbs last year, with this bulb (again, no connection other than being a satisfied customer). The only compromise with this one is about a one-second delay between flipping the switch and the bulb lighting. These are 8.5 watts apiece, and I think the claimed 50-watt equivalent is a little low, frankly. I use these three across in bathroom vanities very satisfactorily. The light is bright, with an appealing color.
I have a few more powerful ones installed here and there. My table lamp and floor lamp in my living room both have LED bulbs, and if I didn't tell you, you'd never know it. That's how pleasant and bright they are.
I like using LED bulbs. I'll just have to wait and see on longevity. If these start blowing a year or two in, then suddenly they're overpriced at even $5 each, aren't they?
Between pull-outs and the small purchases I've made over the years, I have probably 3 dozen each 60- and 75-watt incandescent light bulbs, almost all of them rough service. Given that I'm gradually replacing them anyway, I expect that to be a lifetime supply.
Put back a few incandescent bulbs if you need to, but I invite you to check out that LED bulb above as well. Just get two or three of them and see what you think. I bet you'll be impressed.
Similar Posts: