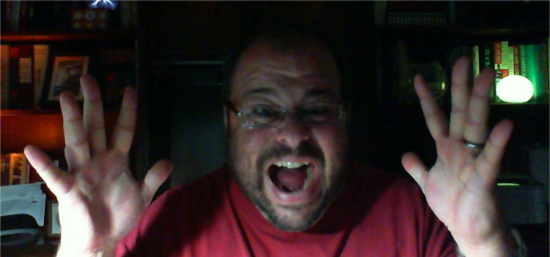 You ever feel like that?  Wow, is everything nuts right now.
The biggest, and saddest, news is that we're almost certainly going to have to say goodbye to Oliver next week.  He is severely anemic, and we've systematically eliminated potentially treatable causes over the past couple of weeks.  Our last try is doubling his prednisone dose to see if we've not been giving him enough to get on top of an autoimmune disorder.  If that works, he'll improve over the next several days.  (Dr. Patton is pretty much calling it a long shot, though.)
We have an appointment next Tuesday morning.  If a miracle happens and Oliver gets better, then Lea's taking him in to get more blood drawn to check his RBC count.  If he doesn't improve, then I'm taking him in to go to heaven.  I'll have a good post up for him that day.
He's an awesome cat—the first one I've ever loved.  I'm not doing well with it—no one is—but we were blessed to be able to rescue him and give him, and have him give us, six good years.  More later.  Thank you for your thoughts and prayers.  We really appreciate them.
In other news, in light of this revelation about Facebook and its shadow profiling, I'm about to delete my personal Facebook profile.  It is much easier and more fun to stay on than to get off, but I finally had a "that's enough" moment reading that article and the ones preceding it.  I don't know how close the water is to boiling, but this frog is jumping out.
Now make sure you understand what's going on.  Say you and your friend Sally are both on Facebook.  Sally uploads some contact information that contains a telephone number for you that you had not previously provided to Facebook.  Facebook notes that, and puts it on your "shadow profile."
Now whether or not a tortured reading of their Terms of Service indicates you "consented" to that, it's sleazy as hell.
The article further makes clear that Facebook will still work very hard to know as much about me (and other non-FB members) as possible, but I don't have to help them.
"What about all of that stuff you already shared?  Do you really believe they'll delete it?"  I don't know.  But even if they don't, if I stop sharing today, then the fidelity of the information that I have shared gradually degrades, does it not?
(Oh, I got over my affection for Foursquare really quickly, too.)
Finally, it's an uncharacteristically busy social week for me.  Lunch with two cool fellow Rocket City Bloggers tomorrow.  Seeing some fun high school friends tomorrow night.  On Thursday is the Rocket City Bloggers meet and greet, to which I'm really looking forward.  You can RSVP as late as 4:00 Wednesday, June 26, so if it sounds like something you'd enjoy, come see us.  And on Friday, I'm having lunch with an old high school friend I haven't seen in more than 26 years.
Oh, and you want to wave at Saturn?  Check it out.  (Probably should have saved that for Thursday miscellanea #242, but oh well.)
Similar Posts: