Back when Madison Square Mall was a thriving retail center, one of the best places to eat there was Steak Escape. They made hot subs on a flattop grill while you watched. They specialized in cheesesteaks, but my favorite was the Grand Ham. It had thin slices of deli ham, onions, and peppers, spiced fairly robustly, with provolone melted over it.
I started messing around trying to capture the vibe of that sandwich a couple of years ago. I've gotten pretty close. I keep it occasional to preserve some novelty, but it vanishes reliably when I make it for dinner.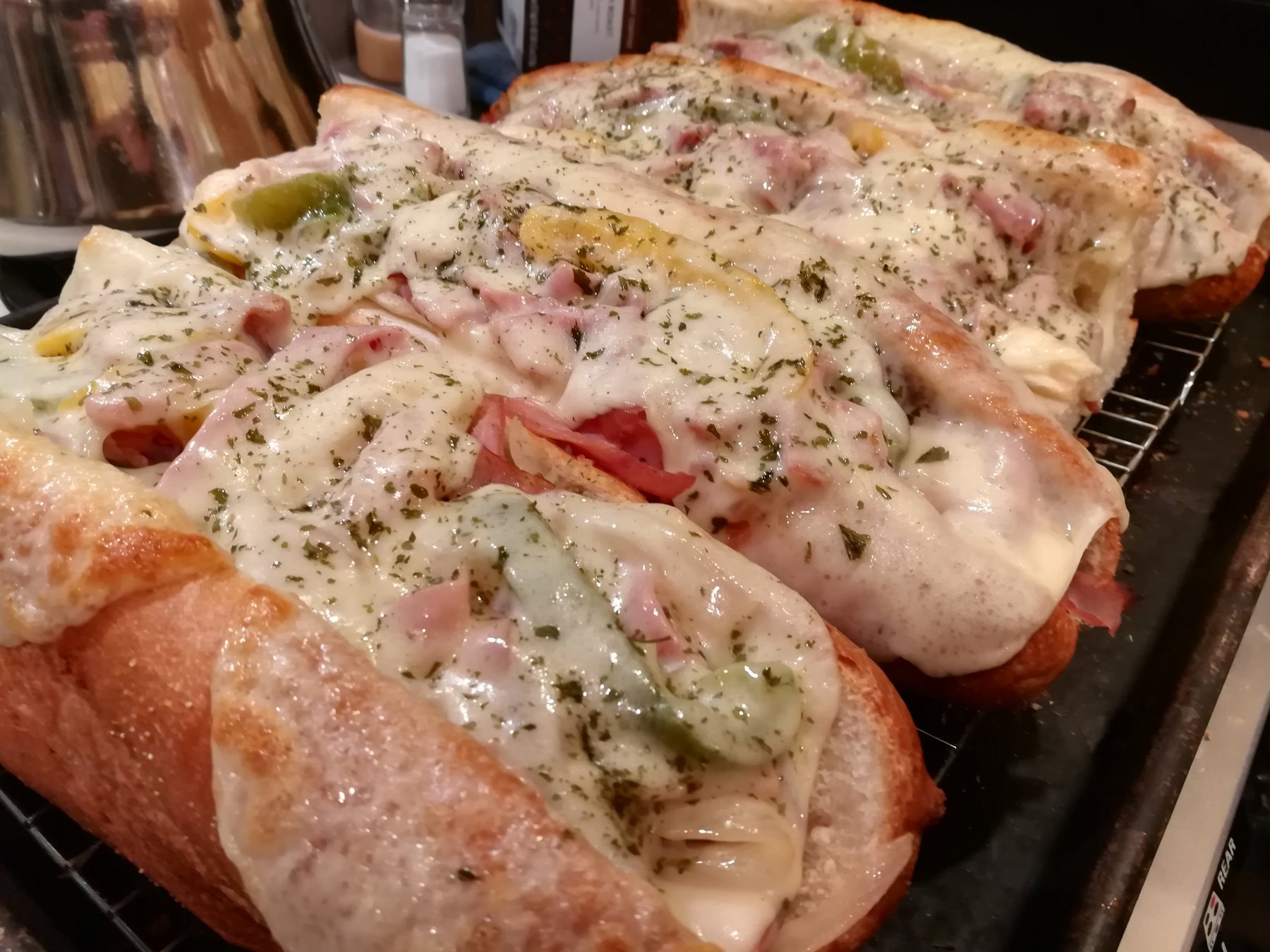 You need:
2 big French bread baguettes (the ones at Publix are perfect)
4-6 lbs. deli ham (typically I get shonuff deli meat for half of it, and supplement with lunch meat of reasonable quality)
1-2 white onions, julienned
2-3 bell peppers, julienned
Light olive oil
Garlic powder
Worcestershire sauce
Freshly-ground black pepper
12 slices provolone (I prefer non-smoked, but it won't blow up if you use smoked)
Dried parsley
As you can see, the numbers have a lot of slop in them. This isn't a recipe of great precision. Scale it up or down as needed.
Preheat oven to 350º.
Sauté your onion and bell pepper in a little olive oil in a large skillet over medium-high heat. Slice your ham into thin strips while that's happening, and stir the veggies occasionally.
When your onions start getting some translucence about them, cut the heat to medium. Dump your ham in and mix well.
Give the skillet a light-but-all-over sprinkle of garlic powder, a healthy splash or two of Worcestershire, and several good grinds of black pepper. Cook a few more minutes until your ham gets some character.
Cut your baguettes in half crosswise, and then hinge-cut each of the four pieces to hold the good stuff. Spread them out in an ovenable fashion. (I use a cooling rack on top of a deep cookie sheet for this—same setup as baking bacon.)
Divide the skillet contents among the four buns. Top with three slices of provolone each. Shake some dried parsley over the top.
Bake until the provolone just begins to brown (go 10 minutes, and then check every 2).
Remove and allow to cool just a bit.
Eat! (I like mine best with Cape Cod kettle chips.)
You might also like: