You don't have to read BoWilliams.com very long to learn that chili con carne is one of my favorite foods. It's rare that a whole week goes by without me having some.
I recently made a pot and it occurred to me that I'd never posted my recipe. Here it is. Good stuff!
To make BoWilliams.com homestyle chili, you will need:
1 1b. ground round
1 15-oz. can petite diced tomatoes, undrained
1 15-oz. can plain tomato sauce
1 15-oz. can chili beans, undrained
1 15-oz. can black beans, undrained
1 white onion, minced
1 green bell pepper, minced
2 serrano peppers, minced
1 teaspoon crushed garlic, or 4 cloves, minced
6 baby-cut carrots, minced
1 tablespoon premium chili powder, or 2 tablespoons mass-market chili powder
1 teaspoon ground cumin
1 teaspoon ground Mexican oregano
2 teaspoons black pepper
Salt to taste
Brown ground round; drain. Then:
Put all ingredients in a slow cooker, stir, and cook on low for 6-8 hours. (BEST)
OR
Put all ingredients in a slow cooker, stir, and cook on high for 3-4 hours. (NEXT-BEST)
OR
Put all ingredients in a soup pot, stir, and cook on medium heat for 15 minutes, stirring occasionally. Reduce heat to low and cook for 15 more minutes. (STILL GOOD)
Serve with sour cream and shredded cheese. Makes 8 to 10 servings.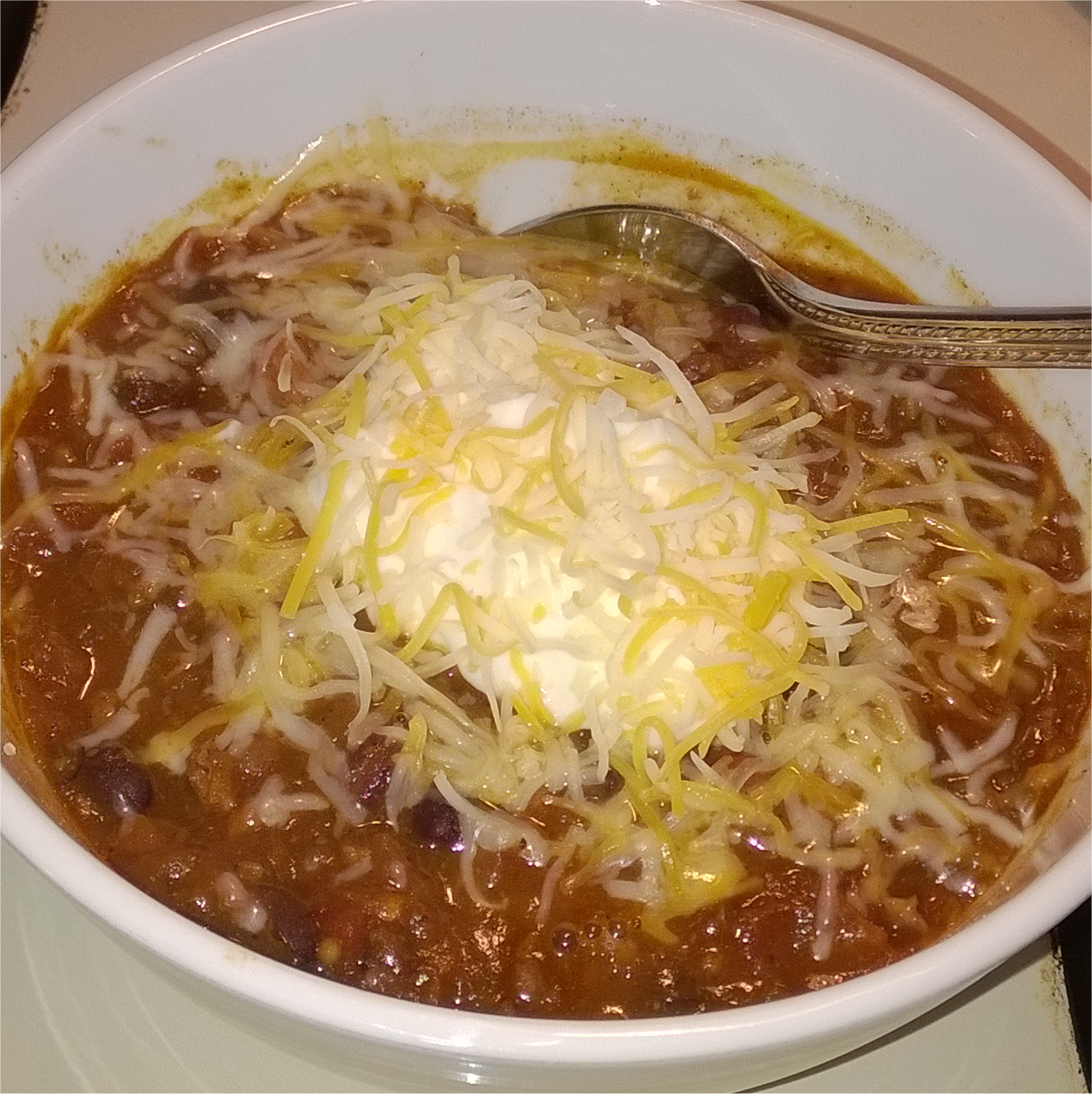 Tips:
I find that the canned beans and tomatoes contribute nearly enough salt to suit me. You may not need to add much at all.
This is not mild, but about middle-of-the-road heat for a mainstream palate. If you want it hotter, you can substitute habaneros for one or both of the serranos quite satisfactorily.
The carrots add a sweetness that is quite subtle, but not at all detectable as carrot. Don't worry about it messing up the chili flavor. Mince them very finely or they'll be recognizable in the bowl.
The meat scales very well. If you'd like it to be lighter, use half or even a quarter of a pound. Or, take it out altogether and add another can of black beans for a marvelous vegetarian chili.
I usually put my cheese in the bowl before I put the chili in. I did it on top tonight for a better photo. Sometimes I put a piece of cornbread in the bowl before the chili.
Like most chilis, this is great right out of the pot but even better after it's been in the fridge for a couple of days.
Enjoy!
You might also like: