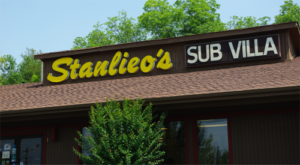 I'm excited to start a new post series on BoWilliams.com, featuring the best ways to spend $10 (or thereabouts) at Huntsville-area restaurants. Consistent, sustained excellence will be a hallmark of every item that makes this exclusive list. Kicking things off is the Kitchen Sink—the flagship sub sandwich of Stanlieo's Sub Villa.
Like Stanlieo's itself, the Kitchen Sink is a Huntsville original. There are so many wonderful tastes working together! It features Genoa salami, cotto salami, ham, turkey, roast beef, capicola, pepperoni, Swiss cheese, American cheese, and provolone. It also comes with the signature Stanlieo's onion, pickle, and tomato, and the vegetables are why I get it cold instead of hot. They pop so piquantly, and I think that's diminished a bit with heat.
I have occasionally gotten other sandwiches at Stanlieo's, and I've never had one that wasn't good. But usually I stay faithful to my beloved Kitchen Sink. When I get that hankering, nothing else will do. It's not like any other sandwich anywhere. It's a signature Huntsville taste, and I'm delighted for it to kick this exclusive list off.
Stanlieo's Sub Villa
602 Governors Dr. (256-536-6585), open 10-7
605 Jordan Ln. (256-837-7220), open 10-9
You might also like: