Like 1972 and 1985, 2013 was an iconic Iron Bowl year because of its unforgettable, once-in-a-lifetime ending.
And my team was on the wrong end of it.
I certainly was tired of watching it over and over again by the time Iron Bowl 2014 rolled around last night. I wanted Alabama to win last night because I always do, but I particularly wanted them to win so that play would no longer be the most recent recorded chapter.
You know the old bit about never fighting with a pig because you both get muddy and the pig loves it?
Well, that was quite a pig fight last night.
When I envisioned how I wanted it to go, I imagined a crushing Alabama rush defense finally shutting down Auburn at the line, forcing it into tricky coverage situations that led to missed routes and interceptions. I imagined keeping the field flipped in our favor because of wise special teams decisions and an offense playing somewhat conservatively because the defense was so lights-out.
I imagined what we've been calling "Alabama football" for my entire life.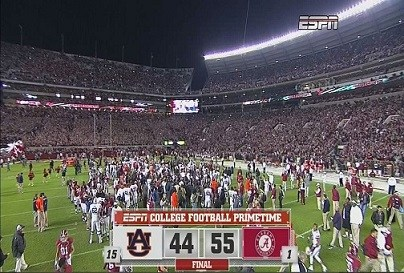 I am delighted Alabama won. But I never thought it'd be because Alabama said "well, all right, I guess we better start playing like this too."
Alabama 55, Auburn 44.
Seriously? 99 points? 1,167 yards of offense?
I used to hate when my old Madden '93 or NCAA '94 games would look like that on the Sega Genesis, because Coach Bryant poured defense in my ear from birth. I'd get frustrated because I couldn't turn in a performance that looked like my favorite real-life games. (If I played with 5-minute quarters, then sometimes the scores and the stats were close. But who wants to do that?)
"We haven't played a lot of games where we give up 44 points and win. That's not really our style." – Nick Saban
Indeed not, Coach. But last night, "(your) style" was whatever it took to secure the win, and kudos to the entire team for finding it.
Roll Tide!