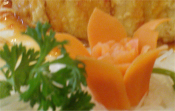 (Note:  Please also read my first review of this restaurant.  I did this follow-up review because my initial visit was on the very first day Four Leaves Asian Restaurant was open.)
I went back to Four Leaves Asian Restaurant today for my aforementioned "validation visit."  I thought it would be fun for the family to go after church today, so that's what we did.  I wanted to try some other parts of the menu this time.
The boys and I split the 2-in-1, one of Four Leaves' signature sushi rolls with spicy tuna, salmon, and avocado, for an appetizer.  I gave Aaron a piece before I remembered I wanted a photo.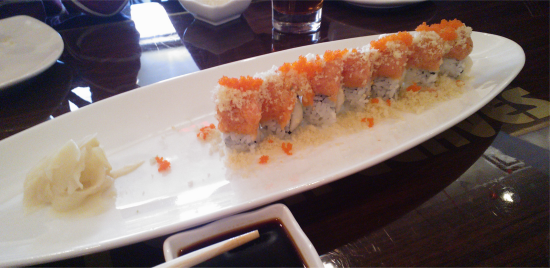 This was tasty, but very high at $16.  It'd be defensible at $11 and a good deal at $9.  I'll drop in sometime for a dedicated sushi meal and see what I can build working from the regular menu before pronouncing Four Leaves too expensive in general on sushi.
Lea and Aaron went with Mongolian beef and sweet and sour chicken for their entrees, remaining firmly in the realm of mainstream American Chinese food.  Both were well-presented and reported to taste good.  I went with udon with a combination of beef, chicken, and shrimp (five good-sized ones—nice number in a combo!).  I enjoyed my noodles, but was a little surprised at how lightly they were seasoned.  I put both salt and pepper on them.
Nathan went with a chef's specialty of crispy red snapper, which was beautifully presented: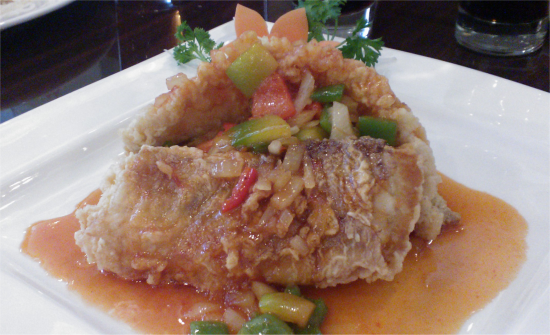 These two fillets were fresh and delicious.  Lea pronounced it a credible rival for the similar dish at Surin—high praise indeed.
As with our earlier visit, service was very good, and though the manager didn't speak to us this time, I did notice how carefully he was monitoring the goings-on.  Our sushi appetizer, four entrees, an extra cup of hot and sour soup, two sodas, two iced teas, and 20% for our server came to $96.  (Omitting the sushi and getting Nathan a $10 entree instead of a $19 one would have put our bill at $64.)
It was another positive visit, and I consider my earlier review validated.  Four Leaves is a fine addition to the area's offerings of Asian cuisine.
7/10
You might also like: