"We are definitely going to Good Company Cafe for date night."
That was the first thing I said to Lea when I got home from an extended and thoroughly pleasant visit with Alicia, Kristen, Jessica, Katelyn, and Gary as part of the food blogger tour ahead of Huntsville Restaurant Week.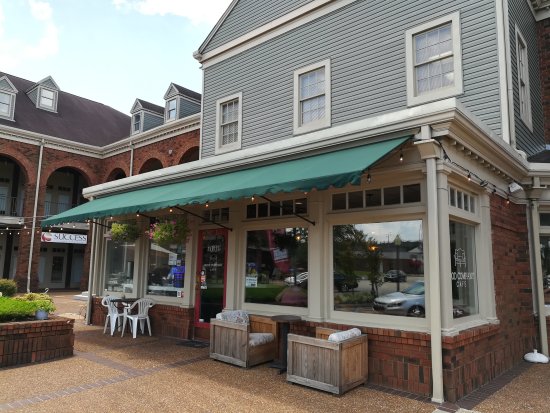 Good Company Cafe is off the Parkway, just south of Martin Rd. Owners Angela Ozbolt and Molly Jones met in culinary school in Rhode Island. They bring a chef-driven approach to their menu, which means that continuous innovation, changing seasons, and so forth guarantee a certain dynamism.
I'm getting to the particulars, but I'll just say this up front: everything I put in my mouth popped. Our fare was incredibly flavorful and fresh, and you know why I call it a great date place? There's a great deal of beauty and impact here for not a lot of money.
(Probably a sidebar too far, but honestly, I got a little bit of the same world-class vibe here, today, that I got the first time I visited Barber Motorsports Park in Leeds:  "I'm so proud this is in Alabama!")
The Good Company Cafe specials for Huntsville Restaurant Week are good for-one and for-two combinations of menu offerings, so there's a great deal of variety in what you might select. Given the nature of our visit, we said "chef's discretion."
(That meant a wonderful culinary and gustatory adventure with Angela and Molly.)
Good Company Cafe deserves your serious consideration. I can't wait to go back for lunch during the week, and I really can't wait to take Lea there.
Good Company Cafe
7500 South Memorial Parkway Suite 123, Huntsville
(256) 881-0044
Open 8-4 Mon-Wed; 8-9 Thu-Sat
You might also like: