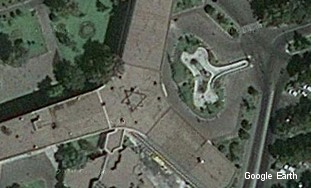 Adding to its seemingly endless list of hilarities discovered in its quest to index the world, Google photographed an unambiguous and clearly intentional Star of David on the building housing Iran Air, The Jerusalem Post reports.  According to the article, Israeli engineers constructed the building before the Islamic Revolution, when Israel and Iran enjoyed good relations.
So the mullahs and ayatollahs and clerics and revolutionary guards and whoever else is in charge of hating civilization in Iran are all incensed about it, of course, calling for its immediate removal.
I have a question, though.  The article doesn't say exactly when the building was completed; only that it was pre-Islamic Revolution.  The overthrow of the shah didn't occur until 1979.  So the building, which is part of Tehran's airport complex, has been there at least 31 years.
Do these people marinate in their hate and misery so completely that they never even allow themselves the simple pleasure of looking out the airplane window?