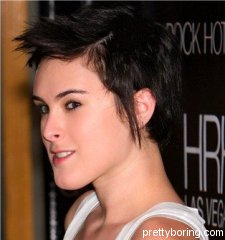 Rumer Willis, budding actress and the 21-year-old daughter of Bruce Willis and Demi Moore, has been presented with an Academy Award for Best Actress, her spokesperson said late Saturday, though it was not immediately clear for what work she was receiving the award.
On Sunday, a spokesperson for the Academy of Motion Picture Arts and Sciences, the voting body in charge of the awards commonly known as "Oscars," explained in a statement:
"While Rumer Willis had not yet done anything particularly notable, she possessed the qualities the Academy generally looks for in making such an award.  The Academy is confident she'll do something really good and deserving of a Best Actress award, so we're going ahead and giving her the statuette.  Well done, Rumer!  Or, we are confident, it shall be well done."
Willis expressed gratitude and humility.
You might also like: