Earlier this year, Lea was the fifth caller into a local radio show and won a "We'll Take Half of the Gland of Your Choice" contest!  Woohoo!
Heh.
Lea had a hemispheric thyroidectomy yesterday.  She complained of a sore throat about two months ago, and this lab and that confirmed that she had a cold nodule on the left side of her thyroid gland.
We had expected that a fine needle biopsy was next, but her doctor said the calcification on the nodule concerned him and that he typically just took them out, making a malignancy determination in surgery.  (Her initial appointment with her ENT was March 31, and he said "how about April 29 for surgery?"  My immediate thought was "uh, how about 3:00?")
Oh, goody!  A whole 'nother month to scare the shit out of myself on the Internet!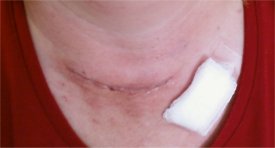 The on-the-table pathology was that it was benign, so her doctor took only that half, didn't see anything untoward in the other half, and sewed her back up.  Something could still turn up in the complete pathology report, but it's not at all likely.  Lea's sore, of course, and she can't drive for a week.  But she's otherwise fine and feeling like herself.
Had the nodule been cancer, he'd have taken her whole thyroid, and she'd have spent an extra night in the hospital.  She'd have also had to do a 24-hour quarantine radioactive treatment in a few weeks, and (naturally) she'd have gone on lifelong thyroid medication.  We're thankful to have avoided that path.
All of the hospital personnel were terrific, and as hospital stays go, I suspect it was about as good as it gets.  We certainly weren't thrilled to be down there when swine flu turned up in the area, though.  We weren't at all far from the pediatric ER.  (I did witness irrational behavior, but thankfully not on a large scale.)
Thanks so much for all of your thoughts and prayers.  They were, and are, much appreciated.