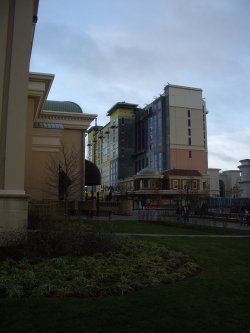 Well, I swore I wouldn't set foot in Huntsville's latest peoplequarium for at least six months, and I went today.  Weak.  So.  Weak.  Here's my ear; pour in whatever you want me to "know," market researchers.  Oh look, they have gondola rides.  Is that a Fossil store over there?  Where can I get a latte?  Oh my, isn't the fountain exquisite?  Num, num, num, num, num.  Here's my wallet.  Please, put latex gloves on, at least.
Pathetic.  But I'll own it.
Dad and I both wanted to see I Am Legend, and it was on at the theater there, so it got the nod.
I must admit, it's a nice place to see a movie.  For $10, you get:
A 75-foot screen with stellar projection and sound.
Reserved luxury seating.
No one under 21 admitted.
Alcohol served.
It's definitely where Lea and I will go the next time we have a date movie.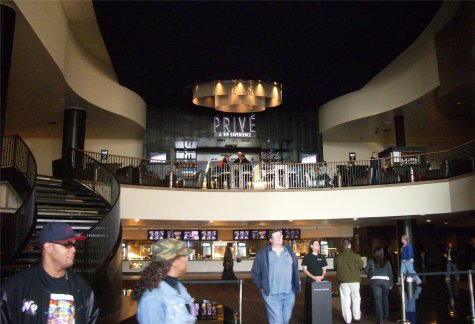 The movie was fine.  I'd call it a good solid B to B+.  I think I slightly prefer The Omega Man (based on the same novel).
The mental lapse of the afternoon was running into Brina Bat and Gray Bat and not thinking to take a photo with them.  Duuhhhhh.  They were as adorable and personable as you would imagine.
I feel so blessed that my father and I are genuine friends, who actually want to spend time together.  Too many dads and sons don't make it to here.
You might also like: