I haven't felt any pressure to be out doing something fabulous on New Year's Eve in several years.
I guess the best time I ever had was at the Hilton ten or twelve years ago. They used every square inch of public space in the place to set up four different bands/dance floors/bars, and the cover was $20 or something. One of the bands was all guys I knew, so that was fun. The other cool thing was that my dad and a bunch of his friends were there as well, so I could move back and forth between my crowd and his crowd. It was satisfying and enjoyable to move between my guys singing Crowded House's "Something So Strong," and his guys singing The Four Seasons' "Sherry."
Rock 'n' roll is rock 'n' roll.
Conversely, tonight we had Zatarain's for dinner, played some Super Mario Galaxy, and (of course) enjoyed bowl games. Auburn just beat Clemson, preserving the (as of this writing) perfect 2007 SEC bowl record.
(I might be taking an inch or so off the bottle of Crown, too.)
Thing is, what would I change? Nothing. Am I old, or content? Or both?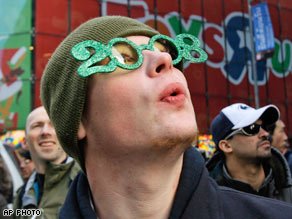 One good thing about this year is that it's the next-to-last year we'll have to put up with these stupid glasses, which were witty for New Year's Eve 1999, and for no other time. After next year, it will be 991 years before we'll see them again. (Or, depressingly, maybe only 91, if someone decides to do an unbalanced 2100 with them. What the hell ever. I won't be here.)
Thanks for reading, boys and girls. I wish you prosperity and serenity in 2008.