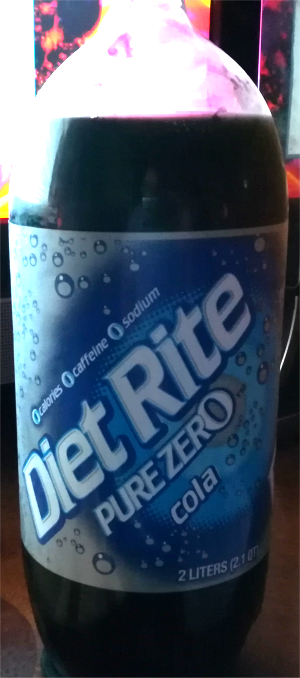 I haven't had a favorite soft drink in quite a long time. But today, after a lengthy courtship, I think it's fair to say I've committed to Diet Rite.
Originally made and distributed by Royal Crown Cola and today owned by Dr Pepper, the current Diet Rite cola is free of caffeine, sugar, sodium, and aspartame. I think it tastes closer to regular, sugar-sweetened cola than any other diet cola I've ever tried. It is tasty enough to use without apology in an ice cream float, or as a mixer. I drink quite a bit of it.
So of course it's apparently at death's door. Quoting the Wikipedia page above:
The Snapple website contains a Product Locator link for Diet Rite; however, the page it links to does not include Diet Rite as one of the available brands.
Diet Rite is no longer listed as one of the brands on the RC Cola website.
Oh, dear. Indeed, both this site and this one are pretty clinical, with a little bit of information and no marketing to speak of.
So I guess it's up to me.
If you're currently drinking a caffeine-free diet cola with any regularity, please give Diet Rite a try. It's an excellent product, and one I'd like to have around for quite some time to come.
Similar Posts: