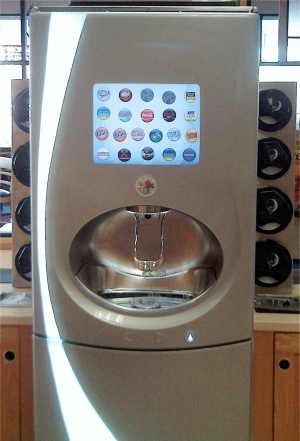 Objectively, I think the Coca-Cola Freestyle soda fountain machines are pretty nifty. I like the options, and the quality of the dispensed product seems consistently high.
However, if self-service at a Coca-Cola Freestyle machine is your restaurant's only method for selling soft drinks, then I'm not going to visit you anymore. It just takes too long. Even a customer familiar with the machine takes several times longer than s/he would at a conventional fountain. And if someone is genuinely bewildered by it, then forget it. You can take as long getting your drink as you did waiting at the counter for your food.
The answer, of course, is to install a Freestyle machine to supplement a conventional drink fountain. That way, folks in a hurry can use the regular unit while other folks fuss with the Freestyle. But, a lot of places don't have the space for this, and even if they do they're not likely to want to do that with it.
Gee, this complaint sounds familiar. Ah, yes: it's the same one I had about stamps. The world is passing me by. And too many of you are happy with the way things are going, or they wouldn't be going that way.
That's OK. It's the same kind of vibe that makes me unapologetic about my denim shorts.
I'm an old man at 43.
You might also like: