Dudes and dolls, I always feel a little sheepish when I come back to you after an unexplained, longer-than-customary absence. "Now baby, listen, it's not like that…" I hear myself saying in my head as you accuse me of burning my discursive oil elsewhere.
(Or "dipping my nib"? Too provocative?)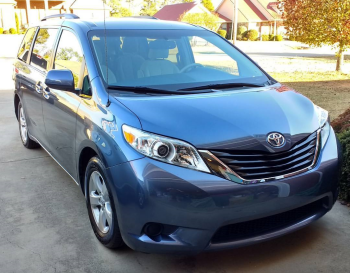 We've actually been pretty busy. We got the new Leamobile Saturday—a 90-point 2014 Toyota Sienna, which we all love. It drives fine, though I'm surprised at how different it feels from the Odyssey. The Sienna is definitely designed with a more isolated driving experience in mind. The handling isn't vague, per se—it's just muted. In any case, it's way prettier than the old buggy, and I love that Lea has a technologically current stereo and a rear view camera now.
The least pleasant part of the Upward season is just about over. Rosters are out, and after the first week of practice next week it'll start running itself to a larger degree. I'm not coaching this year, and as much as I'll miss the kids, I'm looking forward to a more freeform Saturday experience.
Thanksgiving is a bit odd. We'll be here most of the day, and then go to my dad's for dinner. We're having dinner with Lea's family the night before. Gonna watch some ball Friday, and of course Saturday is an all-day feast of rivalry games.
Some significant percentage of my Facebook timeline is still eviscerating itself over the election. I couldn't tell you for sure whether my relative tranquility more represents ignorance or wisdom, but I will tell you that a) it's genuine; and b) I'm certainly glad to have it.
I appreciate you checking on me, which I see you doing, even when I'm not holding up my end and giving you something new to read. We'll call my brief hiatus over now, and get back to a more usual pace. Thank you for reading BoWilliams.com.
Similar Posts: