What an inspiring performance! That was just an outstanding job getting back through the field to win this year's Greatest Spectacle In Racing. Congratulations to Juan Pablo Montoya on driving one hell of a race.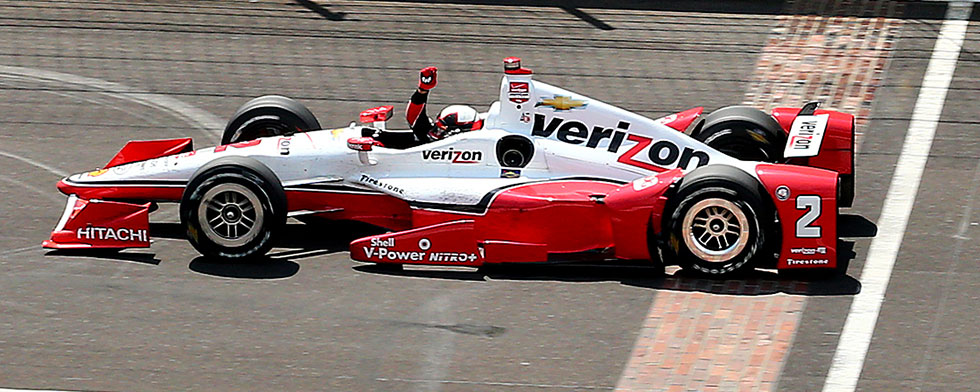 He is a reliably entertaining driver, and I'm delighted to have him back in the greatest racing series in the world. If it had to be a Penske driver, he's who I would have picked. Heh.
Other thoughts:
I am so glad no one was seriously hurt. After all of the airborne cars in practice, I was concerned we'd have a serious accident this year. I understand Sebastian Saavedra is going to be OK (after being pinned in his car for a time), and I hope the injured Dale Coyne Racing pit crew members are all right.
Tony Kanaan definitely had a car to compete, and though I hated to see him err, I loved how gracious he was in his post-crash interview.
Congratulations to Charlie Kimball on a podium finish. He and Scott Dixon finished 3-4, which wound up being the best story Chip Ganassi could tell. For a while, it looked like it was going to be a banner day for Ganassi.
Speaking of, I hated to see Sage Karam taken out on the first lap by Takuma Sato's stupidity. I think Karam was going to be competitive today, and I'm watching his career with interest. He's skilled and personable, and the kind of kid we need for IndyCar to flourish long-term.
Straight No Chaser did a fantastic job with the first post-Jim Nabors "Back Home Again In Indiana."
I told Lea I was sad, because right now we're absolutely as far from the Indianapolis 500 as we can be. "That much closer to fall football, though!" she replied. True enough!