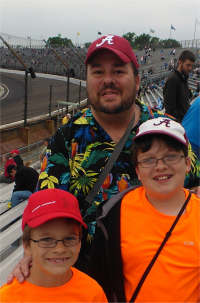 Dad, the boys, and I went to the 97th running of the Indianapolis 500 this weekend.
I'd have said breezily that it was the first one for all of us, but Dad stepped up and said "no, my dad, my friend's dad, my friend, and I flew in a Beechcraft Bonanza and landed in the infield for the 1958 Indy 500."  So, my first one, the boys' first one, and Dad's first one in 55 years.
I said "hey, I think that's the same plane Buddy Holly, Ritchie Valens, and the Big Bopper died in."  And so it was.  But that's another post.
We picked an outstanding year to go.  This race set new Indianapolis 500 records for most lead changes (68), most different leaders (14), and highest average speed (187.433 mph).  We sat in the Northwest Vista, in Turn 4, eleven rows up.  I had attended two IndyCar races before this one (Nashville, 2008; and Barber/Alabama, 2010).  I had also attended multiple superspeedway events in my youth, mostly at Talladega.  This was the first time IndyCar and a large track had converged in my experience, and…wow.
Did I mention that our favorite driver, Tony Kanaan, finally won this damned race on his 12th try?  "The best driver never to win the Indianapolis 500" is now someone else.  Congratulations, TK.  We were absolutely thrilled to be there for it.  It's poetry, really.  Leading late, and showing you our view to the left: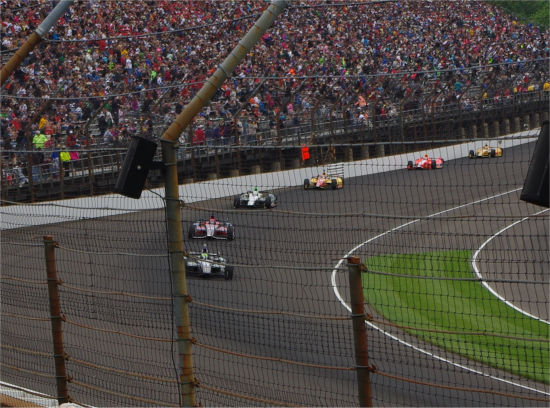 Kanaan is a disciplined and fair-minded athlete, an articulate spokesman for his sport and his values, and a devoted father.  I'm sure all of these things contributed to the raucous cheers and hat-tips we heard and saw all around the track when he led and finally won.  I was proud to be there, but I was also so pleased to see so many other people getting it.  You deserve it, sir.  Welcome to the club.
Here's one I haphazardly snapped on his victory parade lap.  He's maybe 50 feet in front of us here.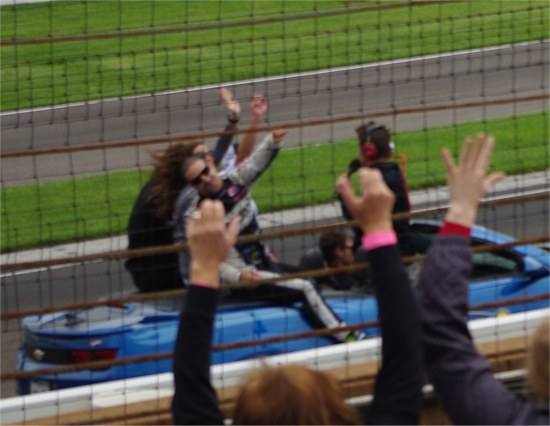 Again, congratulations, TK, and thank you for a marvelous time, Indy.  I suspect we're not done with you.
You might also like: