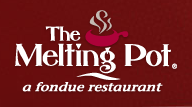 The Melting Pot has been open at Bridge Street for three years now, and Lea and I just found our way there for the first time Wednesday night.  It is a fondue restaurant, which means that whenever anyone mentions it, I make '70s jokes.  ("Did you guys check out the new 8-tracks at TG&Y after dinner?")  In reality it is thoroughly modern inside, with granite tables that include elegantly incorporated cooking elements for the fondue pots.
There are four courses:  cheese, salad, entrée, and dessert.  The menu has recommended paths, with both single and couple pricing.  Some variation is available.  If you want the cheese course from one path and the dessert from another, you can do that.  If you each want a different salad, you can do that.  However, a couple must select the same cheese course, entrée (and associated cooking method), and dessert, as all of these use the fondue pot.
This takes time.  The Melting Pot is not a pop-in sort of place.  While we never waited long for anything, the complex nature of the meal means the pace is relaxed.  Our dinner took about two hours and twenty minutes.  Be advised that you're not going to show up at 7 and make a movie at 8.
We had a 6:00 reservation, and were promptly seated when we arrived five minutes early.  Our courteous and articulate server Sara brought me an Old Black Bear Cave City Lager, and Lea some sort of vodka-berry situation.  We ordered the Big Night Out America menu, with a tweak here and there.
Our cheese fondue was a tasty melange of cheddar, Sam Adams, Dijon mustard, Tabasco, and a bit of onion.  The dippers for it include the expected bread cubes, as well as raw vegetables and chunks of Granny Smith apple.  We had a good time with it, and we both enjoyed the apples more than we expected to.
Finding the Old Black Bear a tad malty for my mood, I switched to Sweetwater 420 ahead of the salad course.  Lea and I diverged here.  She went with a Caesar salad, and I went with the Wisconsin Wedge Salad that was already the default in the Big Night Out America menu.  It was fine—Gorgonzola, bacon, tomatoes—but Lone Star does this salad better.
There are three entrée tiers, priced by the amount of lobster in them.  We went with the middle one, called Fondue Fusion.  It contained one lobster tail, four chunks of peppered Angus sirloin, four Old Bay-seasoned shrimp, four chunks of buffalo chicken, four chunks of barbecue pork, and four wild mushroom sacchetti (sort of a wonton-style dumpling), all artfully arranged.  Sara also brought six sauces, including a strong cocktail sauce, a ginger plum sauce, and a mild curry, as well as some dinner-sized vegetable chunks.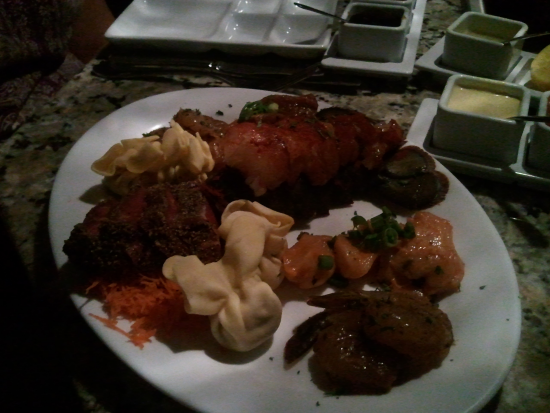 We went with the Coq au Vin cooking style, which is essentially the pot filled with burgundy wine, herbs, and mushrooms.  You can also choose vegetable broth, canola oil, or a Caribbean infusion.  After receiving our cooking times from Sara—customer's discretion on the veggies, minute and a half for the seafood, two minutes for the steak and wontons, and two and a half minutes for the chicken and pork—we began.
(Incidentally, as many watches as I own, and as clear as the need for a good timer should have been, the Seiko Arctura chronograph I chose for the evening wasn't a particularly usable choice for this purpose.  You need a good timer.  Plan for that.)
It's fun.  We had three fondue forks apiece, and we got practiced at timing it so that we had something cooking and something to eat most of the time.  I think our pot of gently boiling wine served the steak and chicken well, but the seafood and pork maybe a little less so.  I suspect the only truly goes-with-anything cooking method would be the canola.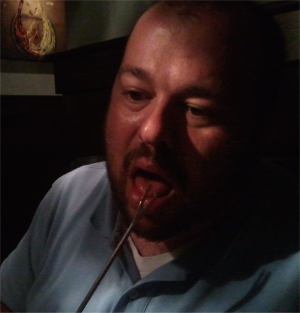 We stepped off the prescribed path again for dessert.  (By the way, don't worry about licking your fondue forks to clean them for dessert.  They bring you new ones.  Heh.)  We selected the Flaming Turtle.  That's chocolate, caramel, and candied pecans, with a little flambé.  Dippers were banana slices, strawberries, marshmallows, bits of pound cake, and cheesecake.  My black coffee was of perfect intensity, and had an appealing crema.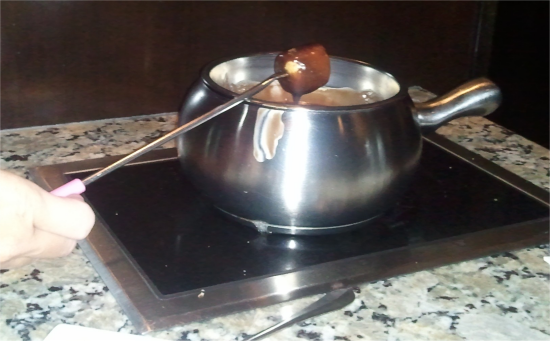 The dessert represented a return to strength for the concept.  Cheese and chocolate bookend the meal, and is there really any such thing as fondue without them?
Clearly, there is much to like about The Melting Pot, and indeed, Lea and I enjoyed our experience there.  It actively positions itself as a "date night" destination, and mission accomplished.
Yet we agree that we are unlikely to have a full dinner there again.  Why is that?  Simply put, we experienced no knockout taste at The Melting Pot.  While everything we were served was attractively presented and tasted good, we ate nothing that made us say "we have to come back and have that again."  An entrée course containing six different house sauces and five different meats should make itself gustatorily memorable at some point.  Instead, the novelty of fondue is essentially left to support the entire experience.  That's one trick, and it's a good trick—but it's not quite enough scaffolding for what it costs.
If you hear a widespread knock against The Melting Pot, it's that it's expensive.  The four-course dinner for the two of us, four alcoholic beverages, a cup of coffee with dessert, and 20.7% for Sara came to $164.  Now as I've said in other reviews, meals out are a luxury to start with, and must be evaluated on their own value scale.  Even considering, that's high for the experience we had.
Now that is not to say we won't be back at all.  It's a pleasant place to be, and our service was quite good.  We both said it'd be a fun place to go for dessert and coffee after a movie, for example.  Having just the cheese course would be an eminently defensible light dinner.  So, while it's doubtful The Melting Pot will make our date night rotation, I won't say we'll never enter the place again.
If the idea of The Melting Pot intrigues you, then please don't think I'm trying to dissuade you.  We had an experience of consistent quality.  We just didn't come out with any particular desire to repeat the full four-course dinner, and for us, the one-two of that lack of desire and the pricing banishes it from future date night consideration.
6/10
Similar Posts: