I love reserved seating at movies, such as is available at Monaco Pictures.  There are two advantages.  One is the obvious one—you get to pick your seats, and if you don't like what your first date/time choice has to offer, you can bump the calendar until you get what you want.
The second is more subtle.  Unless it's a packed house, reserved seating also practically guarantees you a buffer zone.  If a seat can be left between you and an occupied seat, you'll generally leave it—and so will the people purchasing tickets after you already have yours.
Which is why I thought it particularly odd when I went back today to look at the seating chart for the showing of Prometheus Dan and I planned to attend, and noticed it had gone from this (with the two of us at E7 and E8):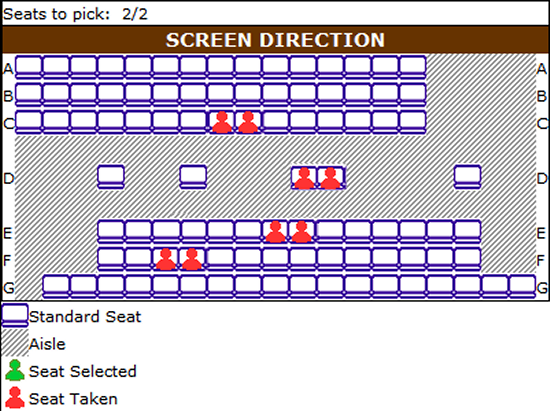 to this (note the new interloper at E9):
That's awfully peculiar.  What the hell?  This whole theater to pick from, with this small number of seats occupied, and someone squats on us at E9?  I mean, even if it's some perv, how does he know we'll feed his particular freak?  Hmmm.
So then, two hours before start time, I got an email from a senior manager at Monaco indicating that our scheduled movie would not be shown "due to technical errors."  It was as nice as these things could be, offering full refund and two free passes, so yeah, whatever (though I suspect it'd have pissed me off a lot more had I been out and about on the front end of going to the movie).
Then, I thought the "technical errors" must have been that they double-sold one or both of our seats.  That's a narrative consistent with all of the pieces.  See, then the interloper at E9 is sitting with his friends at E8 and/or E7, those seats having erroneously been sold twice.
More than once, I've made plans based on a published showtime at Monaco only to have it vanish, with no evidence it ever existed.  Then, I started making sure to buy tickets in advance, thinking that would protect me from such.  I thought it was until today.
The moral is, Monaco remains a great place to see a movie, but make sure you have something else to do too, because you might need it.