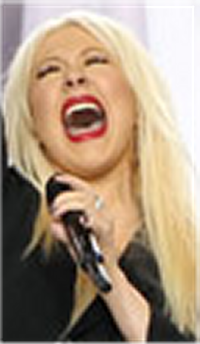 Well, even if you didn't see it, you've probably heard by now that Christina Aguilera butchered The Star-Spangled Banner last night before the Super Bowl.  I'd put the video up, but I have little confidence a specific instance of it would last long.
She's being eviscerated, and I have no pity for her.  If you stand up and say you're going to sing the national anthem before the Super Bowl, then you cannot make a mistake.  You don't get to be nervous.  You're not allowed the privilege of getting "so lost in the moment of the song," as her statement said.
It's a story because she flubbed the lyrics, but she was also one of the more obnoxious practitioners of the "make the song her own" school of thought that I've ever heard.  Sweetie, that's a single note on my sheet of music, not four.  Also, you know the "microphone"?  That's what makes your voice able to be heard throughout the stadium.  It works very well even if you don't shriek.
The silver lining is that now it seems a slam-dunk we'll get a spectacular rendition next year, doesn't it?
Similar Posts: