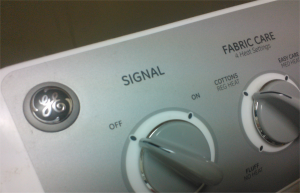 I follow someone on Twitter who includes "Normal is a dryer setting" in her bio. What a thought-provoking thing to say, eh? I like its poignancy and elegance very much.
She advocates for people with special needs—Down syndrome, folks on the spectrum, and so forth. That's what she means when she says that. It speaks to something different for me.
I've grappled with "normal" for most of my adulthood, in terms of how people's lives go. I determined a long time ago that there was no such thing.
Everybody's got a backpack they can't take off. Some folks—I (still) like to believe a lot of folks—have light ones. Others are so crushingly massive that just getting through a day is a minor miracle.
And I've been thinkin' 'bout my backpack lately.
There's just about a third of a hair's width between thoughtfully examining your childhood and blaming your childhood for whatever flavor of asshole you've become. I'm not interested in the latter. People are themselves responsible for who they are. Anyone who knows me 5% knows I believe that.
But I'm finished pretending that a number of childhood things that happened to me, or in close proximity to me, were "normal."
Know that I don't walk around resentful. I know, intellectually, that the people I could/would blame were doing the best they could.
But I struggled for some time with just how I would allow that to inform my reality, particularly as a husband and father. I don't have any greater earthly responsibilities. It is critical that I bring clarity and integrity to those tasks.
And though I genuinely believe I've done a serviceable job at both—maybe even an unambiguously good job, particularly relative to society—I can feel just as dark as I want, anytime I want, considering my failures.
Marinating in my failures.
I'm realizing that to some degree, I've been defining success at these tasks in negative context with what I've directly experienced as a child. I've been saying to myself "well, I'm better than x"—where x is something I remember from my childhood—and calling that good enough.
It's not.
I can do better.
And because I can, I must.