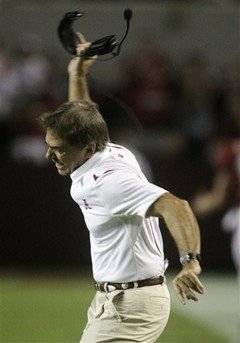 Apparently Mal Moore has jumped all over the need for a Nick Saban statue on the Walk of Champions.  It's in progress now.  It could be ready as soon as A-Day.
I'm not so sure about the photograph after which they've chosen to model the statue, though.
Roll Tide to you, my friends.  Apparently we may drop as far as third or fourth in the recruiting class rankings this year.  Try to keep your chin up.  I'm sure we can stay above .500 this fall.  Heh.
(Pause for a moment with me.  Do you feel that?  Do you ever just stop, and drink it in, and enjoy being all the way back?  I sure do!)
You might also like: