TUSCALOOSA (AP) –  It had to happen sometime.
This afternoon, before a sellout crowd of 137,415 at Saban-Bryant-Denny Stadium, LSU defeated Alabama 17-16, ending the Tide's unprecedented, unlikely-to-ever-be-surpassed win streak at 108 and dropping Alabama to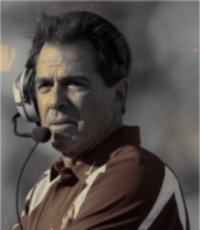 9-1 on the year.
It is the Tide's first defeat since November 24, 2007, a 17-10 loss to Auburn.  The nearly eight-year-long winning streak has included seven consecutive SEC championships and six Bowl Championship Series (BCS) national championships.
Nick Saban's collegiate coaching record fell to 205-49-1.  His winning percentage of .804 remains the highest of all active coaches.
After taking a congratulatory telephone call from President Palin, Saban gruffly vowed to get back to work.
"It's about finishing, just like I've always said, and we did not do that on the field this afternoon.  It's great that we haven't lost a game in eight years, but that was yesterday."
"Today, we lost."
You might also like: