OK, so I was reading this morning about some group or another tangling with a whaling vessel in Antarctica.  The group's boat was damaged, and another of the group's boats, the Bob Barker, was sent to rescue the crew.
Turns out the Bob Barker donated $5 million to the Sea Shepherd Conservation Society, and that's why the boat's named after him.  Yeah, he's got the animal rights thing going, some of which I find admirable and other of which I find ridiculous.  Gotcha.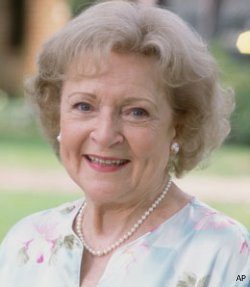 So then I went to find out more about this group, and started reading about Bob Barker's big feud with Betty White.  (Bo, you mean Sue Ann on Mary Tyler Moore?  Mrs. Allen Ludden?  Rose on The Golden Girls?  That one?  Sweet, funny, 88-year-old Betty White?)  Yeah, her.
It seems Bob Barker wanted to move an elephant from the Los Angeles Zoo to an open sanctuary, while Betty White (who is also active in animal welfare issues) wanted to increase the size of the existing enclosure.  White won the "battle," as it were, and apparently Barker then labeled her his "sworn enemy."  (!)
Consequently, Bob Barker threatened to boycott the 2009 Game Show Awards (where he was to receive a lifetime achievement award) if White (who was to deliver a tribute to Mark Goodson) also attended.  White agreed (graciously and largely, in my opinion) to record her remarks so that Barker could receive his award.
(More here, and all of this happened months ago, but like I said it was this morning's news that alerted me to it.)
I have written very favorably of Bob Barker, almost since this blog's inception.  I think he's the best game show host ever by a wide margin, and a pretty cool guy.  But, umm…yeah.  This is too much.  When Betty White is your "sworn enemy" over a zoo's elephant exhibit, then well, that's more than a skosh wonky.  Come on, Bob.
You might also like: