BamaDan and I boarded the Technical Writing Express at 1:20 yesterday afternoon and set out for Chickenfoot at the Tabernacle in Atlanta.  After bisoning ourselves up, we settled into our seats with about 15 minutes to spare.
Opening act Davy Knowles started promptly at 7:30, and played a 30-minute set of competent blues/arena rock, with a bit of an Allmanish, the-jam-never-ends vibe.
Chickenfoot took the stage at 8:40:
Avenida Revolution
Sexy Little Thing
Soap on a Rope
My Kinda Girl
Down the Drain
Bitten by the Wolf (vinyl-only album cut)
Oh Yeah
Learning to Fall
Get It Up
Turnin' Left
Future Is the Past
Encore:
Bad Motor Scooter
My Generation
There was a piece of "Immigrant Song" hanging off either "Get It Up" or "Turnin' Left," as well.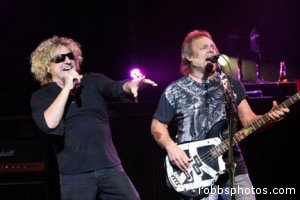 I was complimentary of the album, so I'm going to be pleased with a set list in which I get to hear almost all of it, including all of my favorites.  As you'd expect from a band with résumés this storied, they played excellently.  The precision was impressive.
Joe Satriani is really something else.  He's a lick machine, of course, but would there be a difference making it happen in the studio and pulling it off in front of 2600 people?  It would seem not.  That guy went and made his stuff exactly like he wanted it on the record, and then coolly dispatched it on stage last night.  I loved how well he preserved the subtleties in the "Down the Drain" and "Future Is the Past" intros.
Some of my most anticipated moments were hearing Michael Anthony's chorus vocals for "Sexy Little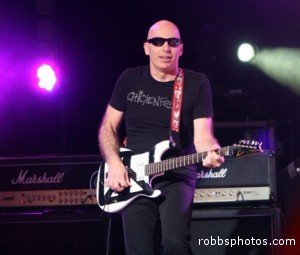 Thing" and "Turnin' Left" live, and he didn't disappoint.  He's like this band's secret weapon, almost—they've written a lot of songs on which he can really show off.  He and Chad Smith made a formidable rhythm section.
Sammy was Sammy.  I've seen him several times, and he's one of the most fun, engaging, and talented frontmen in the business.  He had it appropriately dialed back just a click to suit the environment—this wasn't a Wabos show, after all—but he's a guy who clearly loves being who he is.  He even strapped up for "Bad Motor Scooter"!
Speaking of, that was really my only wish.  There was so much musical history on stage, and "Bad Motor Scooter" was a cool stroke, but it was the only stroke in that direction.  Seems to me there'd be plenty of set list room for just a little from each guy's background.  Oh well.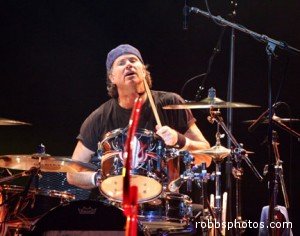 There were pro camera crews all over the place, as well as an automated rig on a 30-foot boom.  So who knows?  Maybe we'll end up on a DVD.
I had said a couple of rather complimentary things about the venue to Dan, having remembered a near-luxurious Tabernacle experience seeing Paul Stanley three years ago.  Well, I believe they've installed new seating aimed at getting a piddly 'nother hundred people or so in the place.  It was disappointing.  The seating was cramped, and the air conditioning couldn't keep up.  I may have taken my last trip to the Tabernacle.  When it's 485 miles going and coming, it's particularly tough to take not being comfortable at the show.
And in and amongst our section:
To Dan's immediate right was the vomit wild card of our section, who was probably pretty hot 10 years and 15,000 Bud Lights ago.  I saw a little Wendy O. Williams in her face.  Dan said Selma from Night Court.  Touch-and-go as it seemed, the evening ended without emesis.
Directly in front of us, and standing up from lights down to lights up, were Bruce Jenner and his girlfriend, to whom Sammy Hagar was directly speaking the entire show.
Over our shoulders were the Wolfman and David St. Hubbins.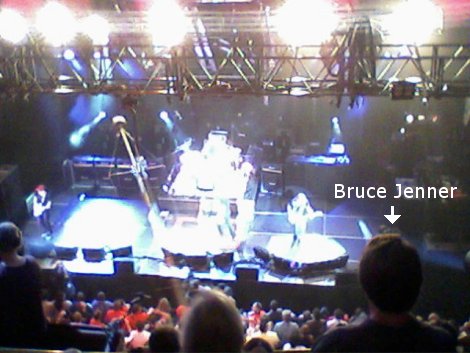 It was a fun outing, with a healthy slab of rock 'n' roll flanked by a side of film conversation, and a little sprig of sociology.
Finally, I'm glad to be off today.  The spirit remains willing for silly late nights out, but man, it sure does hurt longer than it used to.