I like hot sauces quite a lot.  They're a great way to add healthy excitement to food.  In that interest, I decided to have my grilled chicken breast marinated in Tabasco Habanero Sauce tonight.  (I had a little on hand.)  Heh.  It's the hottest of the Tabasco sauces.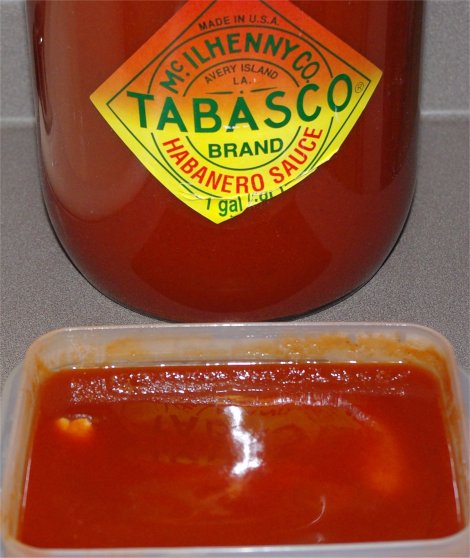 Don't let the name intimidate you.  Tabasco Habanero is a splendid little sauce, its heat carried in a spicy fruitiness.  It's my favorite mass-market sauce, and my standard go-to when I'm not in the mood for a blow-the-back-of-my-head-out boutique product.  It's somewhere between 7000 and 8000 Scoville units, so it'll ring your bell about like a jalapeño will, or maybe a bit more.

(That's Lea's and the boys' on the left in Dale's, and mine on the right.)
The hot-sauce-as-marinade experiment was largely successful.  It is sweet enough that it caramelized a bit, and it adhered to the chicken well.  The tangier aspects of the sauce were enhanced, and the heat took on a cumulative quality that I've not noticed when shaking the sauce on food.  I broke a bit of a sweat near the end.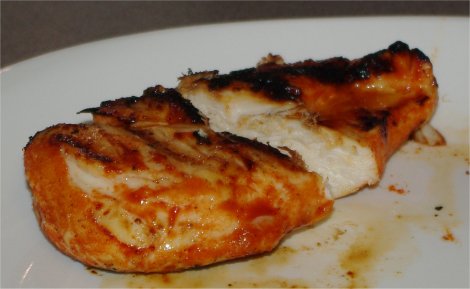 I did make a mistake in letting it marinate too long.  It was in for about three hours, which was long enough to "cook" it a bit and make it drier than it should have been.  However, that's easily corrected next time out.
Finally, I can't finish such a post without mentioning fellow blogger and net acquaintance Scott Roberts.  Scott's blog is a nationally-known and entertaining resource for spicy food reviews.  If you like hot sauces, go spend an hour or two catching up on all you've missed, and then bookmark him.