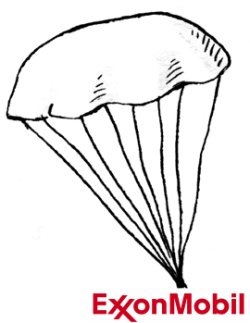 Citing a need to prevent catastrophic damage to the U.S. economy, Congress today announced a plan to bail out petroleum and energy services giant ExxonMobil.
"The severe decline in gasoline demand and accompanying drop in price has placed tremendous strain on ExxonMobil," spokesman Benjamin Dover said Sunday.  "If we are to continue delivering quarterly profits in the $15 billion range to our shareholders, we must have this assistance."
Gas prices averaged $1.97 nationally on Sunday.  It is the lowest average gasoline price since March 2005.
The proposal before Congress would levy a $.75 "countryman's fee" on each gallon of gasoline sold.  President Bush, who late last week called supporting oil companies "patriotic," is expected to sign the emergency measure into law immediately.
When finally reached for comment late Sunday evening, President-elect Obama was audaciously hopeful that he could sign an executive order early in his administration to instead use the money to increase the percentage of the population paying no federal income tax whatsoever to 55% from the 48% it is today, and if enough is left over, to look into all of that windmill and solar panel shit.
You might also like: