I had a post mostly ready to go tonight—just needing a little polish, really—but my priorities have shifted rather radically since I arrived home.
You see, I have received an EMERGENCY TELEGRAM from Arizona senator and Republican presidential nominee John McCain.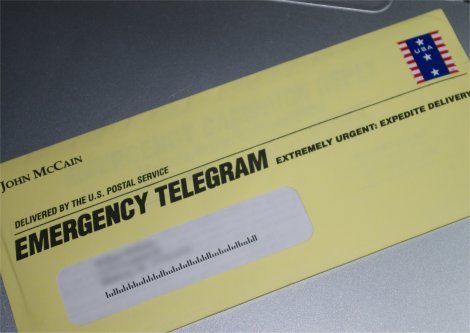 As you can see, it is EXTREMELY URGENT and, should, therefore, occupy my full attention.
I'm guessing this has something to do with the bailout.  Perhaps Senator McCain needs my assistance in crafting some language for a compromise bill.  Who knows?  Whatever the case, clearly this is quite a high calling for which I am honored to be chosen, and I must address it immediately.
I plan to resume a normal posting schedule when the crisis is resolved.