The Burmese python is one of the largest snakes in the world. It is native to southeastern Asia, but did you know it was living wild in the United States as well?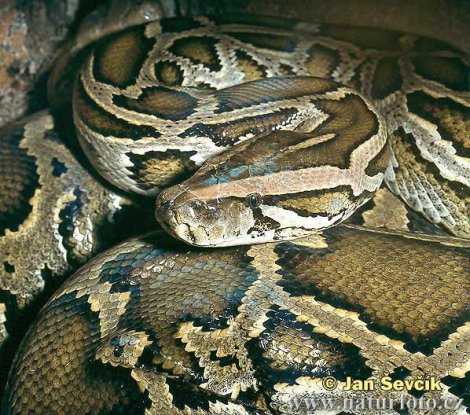 Almost certainly as a result of careless owners releasing unwanted pets, the Burmese python is living and breeding in both the panhandle and peninsula of Florida, as well as Puerto Rico and the U.S. Virgin Islands.
There is a press release on the problem here. In the Everglades, where the first breeding population was confirmed in 2003, it competes with the American alligator for the apex predator position. Officials have confirmed more than one occurrence of a python successfully consuming an alligator.
It's also notable that the press release discusses containment and management of existing populations, as opposed to eradication. Though the piece doesn't say so, I suspect it's too late to feasibly consider getting rid of them.
This map shows the locations of known breeding Burmese python populations in the United States: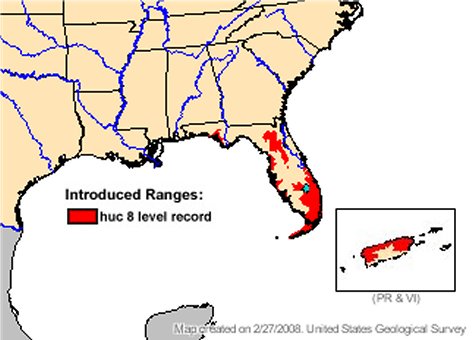 This map shows the potential suitability of the United States for the Burmese python. Areas that climatically match its natural range are in green, and represent habitat that definitely could sustain the snake. Areas in yellow contain habitat that may be able to sustain the snake: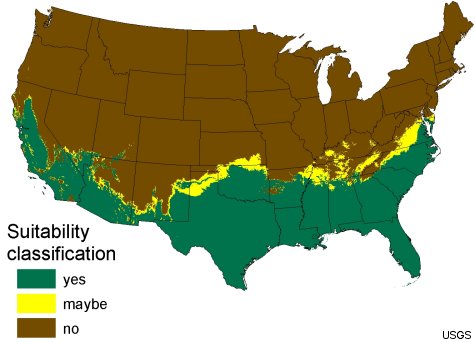 The Burmese python can reach 30 feet in length and weigh in excess of 200 pounds. Large ones can take prey the size of pigs and goats.
Have a nice day.
You might also like: