I'm not going to be happy with anyone who wins the presidency in November.  Not one of them will defend the Constitution.
I've said that from time to time, I know.  I've also said (a bunch) that purely from a theatrical perspective, this is the most exciting race of my lifetime.  So far, it hasn't disappointed.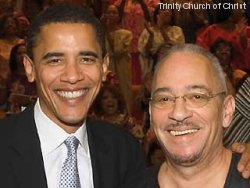 Hey, let's rev Jeremiah Wright up some more, want to?  Woohoo!  Let's hear some more about the feddle gummint cooking up AIDS to kill the black man, and cockamamie racial brain theories, and "God damn America," and all that good stuff.  You can't make it up this good, boys and girls!
Barack Obama initially tried to deflect all of this by comparing Wright to an erratic relative.  That's something to which most of us can relate, I think.  We've shared Thanksgiving with someone for whom the best response is polite nodding and smiling.
'Cept see, your batshit crazy uncle eventually gets up from the table, shuffles off to the living room, and goes to sleep.
Anyone want to lay odds on whether Jeremiah Wright's going to sleep anytime soon?  Yeah, right.  He has the opportunity of a lifetime.  He is, today, a major part of the dialogue.  What preacher, however wrongheaded, will pass that up?
Folks, don't underestimate the gravity of what's happening:  Obama is badly wounded.  As a student of communication, I'm really interested in his next move, because from here he looks really stuck.  He can't go scorched earth, because he's based too much of his campaign on what he says Wright has meant to him.  (A Wright sermon named his book, fercryinoutloud.)  But clearly, he can't tread too lightly.  The guy's a babbling lunatic.
Obama might just bleed out.  Could anyone have guessed that two months ago?
Pass the popcorn.