Sometimes I take a good deal of time with something nice for dinner. And sometimes I make tacos.
We usually do these about as simply as you can do them. Maybe one time in four or five I'll season the beef out of the spice cabinet; the rest of the time I'll use a packet. We use regular old grocery store shells, usually Old El Paso or Ortega.
This morning, the Taco Bell Crunchy & Soft Taco Dinner Kit was buy-one-get-one-free. Hmm. So, 12 crunchy taco shells and 12 soft tortillas for $3? Two packages of seasoning and sauce too? Sold. Good call, Bo. Ha!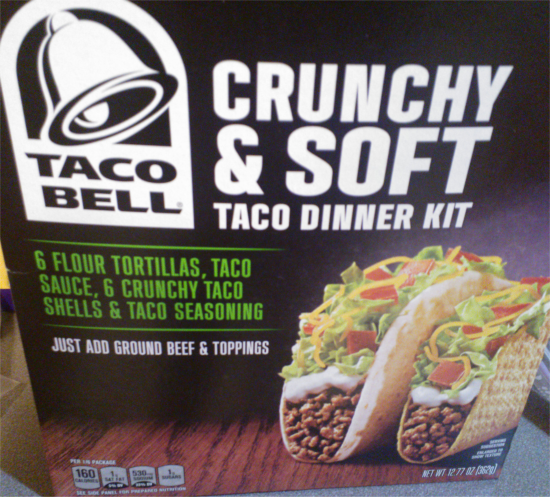 It was a big mistake, and one I'll never repeat.
The shells and tortillas are so small you'd think the whole package was a joke. Remember the fake grocery items that went with little girls' kitchen sets? They looked just like real groceries, except they were sized for little hands? There you go.
Here is a photo of a hard shell from the kit, on top of a tortilla from the kit, on top of one of my Ole tortillas. (The Ole tortilla is the size of a normal soft taco.)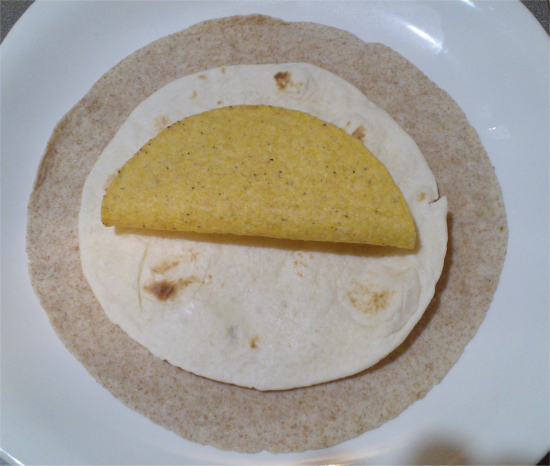 That soft tortilla is just over 5 1/2″ in diameter. The hard shell is just under 5″ long, and just over 2″ tall. The opening is less than half an inch wide. You cannot put a spatula with meat on it in there. The tactic is to put the meat on top, then use the empty spatula to jam it in there. It's a three-bite taco. (Not big bites.)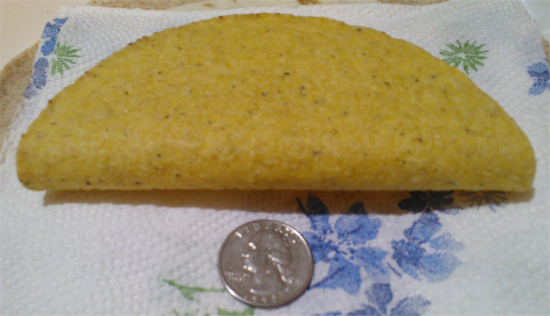 The hard shells tasted all right, what there was of them. The soft tortillas were spongy, and oddly dry inside. The sauce and seasoning were typical, forgettable grocery store kit offerings, but even if they were delectable, they wouldn't save this kit because the shells and tortillas are so ridiculous. If Lea had eaten with us tonight, I wouldn't have had enough out of only one box for the four of us. That's absurd for a box that says it has fixings for 12 tacos in it.
This is a terrible product. Don't even consider it.
2/10
Similar Posts: