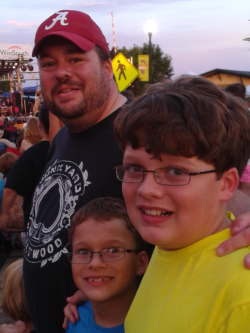 The whole family went to the Main Street Music Festival in Albertville tonight to catch Night Ranger.
Lea and I are right down the middle of Generation X, and there is no more GenX band than Night Ranger.  They were a significant contributor to the soundtrack of our beloved '80s.
As it turned out, tonight was the first big-name live show for our boys.  I'm glad they got a good one.
(Guess I just tipped my hand on my opinion of the concert, didn't I?)
I was positive "(You Can Still) Rock in America" would open the show.  That it didn't was one of the evening's surprises.  Here is the show:
Lay It On Me
Sing Me Away
Four in the Morning
Coming of Age (Damn Yankees song)
Crazy Train (Ozzy Osbourne cover)
Rumors in the Air
Sentimental Street
Roadhouse Blues (Doors cover)
The Secret of My Success
High Enough (Damn Yankees song)
Goodbye
When You Close Your Eyes
Don't Tell Me You Love Me
Sister Christian
(You Can Still) Rock In America
No encores; it was all delivered in one shot.  My vision was ending the regular set with "When You Close Your Eyes," then encoring with "Sister Christian" and "Don't Tell Me You Love Me."  But, as you can see, I picked the closer as the opener, so what do I know?
They still set Kelly Keagy off to stage left, as you can see: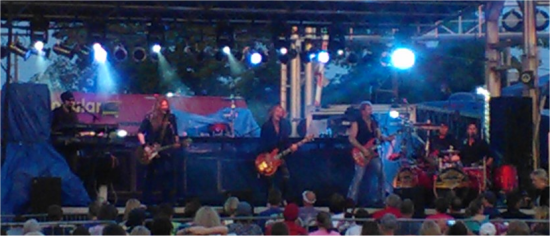 The set was perfect.  They played every Night Ranger song anyone but a serious fan could possibly name.  The only new song they played opened the show, and it's an enjoyable, heavy boot-stomper, easy to get into after the first chorus.  That's an excellent way to do new material for a band that is realistic about the fact that it's essentially a nostalgia act.
Speaking of, let me get to the guts of why tonight was special.  A band touring on past glories can get away with much, much less than we saw/heard tonight.  We're talking about a bunch of guys knocking on 60 here, OK?  (Keagy's already there, actually.)  Most of the crowd wants to hear "Sister Christian," and there are a couple of others that will make them go "oh yeah" and clap their hands a bit, and that's it.  Have the crowd help you sing one or two, and get them swaying, and go back to the bus.
That's not at all how it went.
They could have phoned it in, and man, did they ever not.  We saw a hungry, hard-working band tonight who took the stage intending to deliver the goods.  I think I can reasonably call myself a veteran concertgoer, and I was highly impressed with the quality of their performance.  They have made me say "wow, I need to catch Night Ranger again when I get the chance."  They've also persuaded me to purchase their 2011 album Somewhere in California.
Thanks for a great time, guys!
Similar Posts: