We made it a two-movie week with TRON: Legacy today.  BamaDan, his two older boys, my dad, our boys, and I saw it in 3D this afternoon.
I'm not going to give a detailed back story, because chances are excellent that if you care you already know it.  Quoting the IMDb plot summary:
The son of a virtual world designer goes looking for his father and ends up inside the digital world that his father designed. He meets his father's creation turned bad and a unique ally who was born inside the digital domain of The Grid.
The whole story is pages long, but that's enough for traction.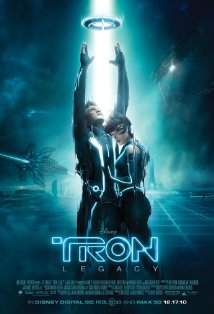 TRON: Legacy is, of course, the sequel to TRON, which was made with state-of-the-art 1982 computer graphics and has therefore visually aged more poorly than just about any movie you can name.  I think the approach is necessarily a bit different with TRON: Legacy.  State-of-the-art now, of course, means nearly anything, elevating the importance of selecting a design motif.  In 1982, it was "whatever we can do, and throw it all up there"; now it's "given all we can do, what should we throw up there?"
Now I'm certainly not asserting that TRON: Legacy will never look as primitive as TRON does now, but I suspect it'll take a little longer.  Moreover, I think the visuals in this film do an excellent job of wowing, while still using a language that ties them directly to the first film.  They're worth a big-screen view, not only for the stuff you expect like the light cycles, but for the sprawling landscapes of color and shape.
Incidentally, the 3D was barely noticeable, and I'm looking forward to taking this one in on Blu-ray (presumably brighter).
My one significant complaint is that the film takes much too long to find its legs.  An entire half-hour in, I was thinking "oh, wow, I can't believe we're all signed up for another hour and a half of this."  Apart from much of Bridges' work and a memorable but brief turn by Michael Sheen, there is not a lot of strong acting to be had here, and that's unflatteringly accentuated in the pre-grid scenes.
Worse, even after we get to the grid, it's a good ten minutes before we care.  Garrett Hedlund's Sam Flynn cracks jokes and throws away lines intended to be descriptive of his plight, but despite a bit of alluring femalia as he's equipped, it was definitely still "all right, let's throw discs and ride light cycles already."
Once they do, it's pleasantly relentless.  It's a fun tear when everybody's fighting, chasing, or both, and you get plenty of that ladled into your bowl.  Even the occasional more pensive moments work after they're in the hands of Bridges and Olivia Wilde.  Her Quorra is beautiful and formidable.
I was eleven years old when TRON came out, so there's a significant nostalgia factor for me here.  It works for that.  I think it probably works well enough on its own, too.  It was hard to have anything but modest expectations, because there were too many ways it could go wrong, but I think TRON: Legacy largely succeeds.
7/10
Similar Posts: