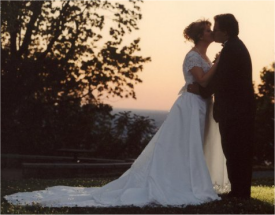 About five years ago, I was among several men waiting in a conference room for a meeting to begin. First, the conversation was a little work. Then it was a little football. It finally settled on talk of wives. You know, they're balls and chains. They whine. They nag. Nothing's ever good enough for them. They just don't get it. Marriage is a trap.
After the meeting was over, a guy I'll call Neal waited around, which was good, because I had something to say to him. (Turned out he had the same thing to say to me.) We had each noticed that the other didn't participate in the wife-bashing. We shared a word about how much we thought of our wives. We started becoming friends that day.
Now if you're having problems in your marriage, it might well be appropriate and helpful for you to discuss it with a friend.
But we all know "this ain't that." This is a category of guy talk that is supposed to be something we can all relate to, so it's a good standby. Moreover, this was the milder version. If there'd been beer, or isolation (boat, camping), or both, it might well have been much more vulgar, with talk of "the ol' sperm bank" or even that c-word which is one of the only words you'll never see on BoWilliams.com. It's just settled into the narrative as something men do – certainly not all men, but too many men – when they're on their own.
And that's appalling.
Most of the time I say something pretty direct now when I encounter it. "Yeah? Wow, that sounds terrible. Why are you still married?" That usually shuts it down quickly. Sometimes I even get a "what are you, one of those?" kind of look. Yeah, I am one of those. I'm one of those men who loves his wife.
Are there bad wives? Of course. My long observation is that there are many more careless or even downright disrespectful husbands.
I told a younger professional not long ago that she was someone's exemplar. "What do you mean?" she asked. I told her that if you do something for a while and you get good at it, someone is almost always watching you to see how to be. Most of the time you won't know it. But if you're a professional of any accomplishment whatsoever, someone is modeling behavior to some degree based on yours. Someone is using decisions you make as input into his/her moral compass.
I believe that about personal relationships, and particularly marriage, as well. Look, I know it's a slog sometimes. If it were never difficult, then the divorce rate wouldn't be at 50%, and I would never have written a ten-post series on it. If I'm out there for even one person who decides not to quit because I haven't, then I'm very grateful for that. And God bless every husband and wife making it work and passing on the bashing sessions. If you wouldn't say it in front of her, then don't say it to anyone else either.
Who else are we modeling behavior for? Gee, any future wives or husbands living at your house? If I ever get cocky (which, believe it or not, is not often with this), then all I have to do is consider that every time I interact with their mother, I'm showing them how a husband treats his wife. That's heavy. That straight-and-narrows me in a hurry.
(Of course, Lea is also showing them the kind of woman they should select. But she just has to be herself, so surely that's not as stressful. Heh.)
Whether they're doing it consciously or not, our boys are thinking "OK, Daddy tells Mommy he loves her, and Mommy tells Daddy she loves him. And this is how they act. This is what it means to be married. This is how people who love each other treat each other." That's what we're carrying. If you have little folks living at your house, then that's what you're carrying, too. The future of the institution of marriage is there. If we are ever to save it, it will be with sending well-equipped, sensibly taught young people into it.
Now tell me how critically important it is that you bitch about the dishes again.